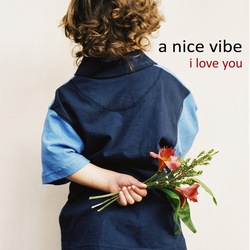 Love songs are a global language.
San Francisco, CA (PRWEB) October 20, 2010
When Greg Charles released his debut pop album of original love songs recently, he had no idea that he would be serenading more than 30,000 women around the world in 30 days.
"The music industry has changed dramatically in the last ten years," Greg explains. "Anyone can become a one-person rock band – composing, recording, mixing, distributing and marketing new music to thousands of potential fans around the world – all from the comfort of home."
But releasing an album on your own does not guarantee that anyone will like your music – or even listen. Thousands of new albums are released every day and many never get heard. "You need to create something of value to the listener – something unique, memorable and relevant to their life," insists Greg. "And you need to work very hard to promote yourself."
Greg Charles calls himself 'A Nice Vibe' and his new album of twelve original songs is aptly titled 'I Love You'. He composes his own music on a portable Yamaha® keyboard and records his songs with Apple Logic Studio® software on a laptop computer in his San Francisco Bay Area home. After using TuneCore® to distribute his album through iTunes®, Amazon.com®, and many other online stores, he focuses on promotion. Greg created his own web site (anicevibe.com), bought airplay on Internet radio through Jango.com® and Last.fm®, and created a page for 'A Nice Vibe' on all the popular social networking sites including Facebook®, Twitter®, YouTube® and MySpace®.
"I have always enjoyed romantic love songs – from the classic standards of Frank Sinatra and Tony Bennett, to the modern pop of John Mayer and Jason Mraz," reflects Greg. "What I love most about their music is that I can relate to what they sing about – the heartfelt and passionate emotions associated with falling in and out of love." So Greg decided to compose and release his own album of love songs. He rationalized that even if no one else listened, he would enjoy recording his songs and giving away a few albums to family and friends.
But Greg never expected the response he was about to receive.
Within 30 days of going live on Facebook®, 'A Nice Vibe' is serenading more than 35,000 enthusiastic fans around the world – 95% of which are female, and over 60% live outside North America.
"I remember the first day it took off," recalls Greg. "My first 100 fans grew to 200 in a few minutes – and soon those grew to over 1,000 fans within an hour! It turns out a woman in Japan really liked one of my songs, so she posted a link in her blog that was promptly clicked by hundreds of her readers across Asia."
Each day, Greg spotlights one of his new love songs on Facebook® and shares the inspiration that motivated him to write the song. Within seconds, his eager fans respond with dozens of 'Likes' and comments, expressing how the song affects them. They share their support for his music and describe how his songs relate to their own lives.
"A popular artist needs to combine appealing melodies with meaningful lyrics to create a song that begs to be played over and over again," Greg asserts. "And it should evoke strong emotion in the listener. When a fan writes me saying that one of my love songs brought tears to her eyes … I feel I'm doing something right."
'A Nice Vibe' experienced firsthand how the viral nature of social marketing can dramatically generate new awareness and create a virtual, promotional spotlight to garner recognition for a new artist. Today, 'A Nice Vibe' has fans all over the world – from India to Indonesia, from Australia to Argentina, and from South Dakota to South Africa. Attracting hundreds of new fans a day, Greg hopes to have 100,000 fans by the time he introduces his second album in a few months.
"Sometimes I have to use Google Translate® to understand what my fans are saying in their native language," Greg acknowledges. Smiling, he adds, "And I know I make mistakes when I try to respond."
But somehow that doesn't seem to matter to his global fans. As Greg says, "Love songs are a global language."
About A Nice Vibe
A Nice Vibe (anicevibe.com) is a new recording artist based in San Francisco, California. The debut album, 'I Love You', was released on July 22, 2010 and is available on CD or a download from all major online music retailers. The sole member of the band is Greg Charles, who composed and recorded all songs on the album, including the performance of all vocals and instruments. Play the entire 'I Love You' album for free on Facebook® (bit.ly/LikeANV) or at A Nice Vibe (bit.ly/SongsANV). Join the Fan List (bit.ly/AboutANV) to keep informed of A Nice Vibe artist news and downloads.
About Greg Charles
Greg Charles was born and raised in upstate New York within the cozy town of Niskayuna. After completing his college degrees in engineering, psychology and music in Cleveland, Ohio, he headed to the warm west coast of California to settle down in the beautiful San Francisco Bay Area and has been there ever since. Greg has been composing and performing his own music since he was a young adult and is eager to continue sharing his original love songs with a global audience.
###