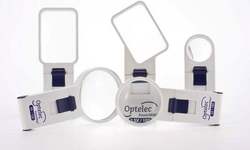 San Diego, CA (PRWEB) October 20, 2010
Optelec US Inc., a world leader in innovative and life-changing assistive technologies for the blind and visually impaired, today announced availability of its newly designed PowerMag+ line.
The PowerMag+ series of LED magnifiers make magnification reading simple and effective through the use of superior Schweizer-brand optics, innovative illumination and high-quality, durable materials. Now improved to incorporate professional and user feedback, the new PowerMag+ line features SMD LED lighting in both the hand and stand magnifiers. It also simplifies the user experience with ergonomic switches and a new battery compartment for easy replacement.
"We feel the improvements made to our PowerMag+ series will make these LED magnifiers even easier for users to employ and incorporate into their daily lives," said Andre Hardy, President of Optelec US. "With its innovative design and affordable pricing, the PowerMag+ is clearly an incredible value for our customers."
The PowerMag+ line, which consists of nine powers and five different illumination colors, provides bright and even light distribution and allows users to truly personalize their low vision needs. The illuminations include HaloBright White, Bright White, and Contrast Yellow with magnifications of 3.5X, 4X, 5X, 6X, 7X, 8X, 10.75X, 13X, and 15X. Available in both hand-held and stand models, the PowerMag+ is the best value magnifier available in the marketplace today and is offered with a Lifetime Warranty.
Pricing & Availability
All Optelec products and accessories are available through Optelec's dealer and distribution networks. Call +1 (800) 335-7970 or visit http://www.Optelec.com for more information.
About Optelec U.S. Inc.
Optelec U.S. Inc. was founded in 1985 and is recognized as the worldwide market leader in providing innovative solutions for the blind, visually impaired and learning disabled. In January 2007, Tieman U.S., Holding Company to Optelec US Inc., spun off ShopLowVision.com as a subsidiary company to provide a one-stop-shop for optical, non-optical and daily living aids for eye care professionals and consumers. In 2010, VisionZone was created as a national awareness campaign for ocular health. For more information, visit http://www.optelec.com and follow @Optelec on Twitter, Facebook and YouTube.
Contact:
Dan Springer
BERKMAN, PR for Optelec
+1 (619) 231-9977 (office)
dan(at)berkmanpr(dot)com
Kelly Stewart
Optelec, ShopLowVision.com, LowVision.com
Marketing Director
+1 (800) 826-4200 x227 (office)
kstewart(at)optelec(dot)com
###