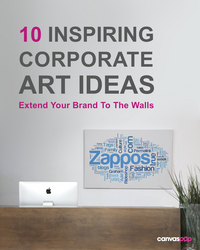 "No one likes to stare at bare walls all day. However, instead of buying the same old mass-produced art, why not take the opportunity to apply your corporate brand to the walls with style and creativity."
New York, NY (PRWEB) October 20, 2010
CanvasPop, the innovator in photography canvas printing and custom digital artwork on canvas, today launched its Corporate Art Program created to liven up the walls of the office, warehouse, shop or global headquarters with stylish, original artwork that brings your brand to life.
CanvasPop has created corporate art installations for many leading brands including SPIKE TV, ABSOLUT Vodka, Red Bull and The Yankee Candle Company.
"No one likes to stare at bare walls all day," said Adrian Salamunovic, CanvasPop co-founder. "However, instead of buying the same old mass-produced art, why not take the opportunity to apply your corporate brand to the walls with style and creativity."
A branded, vibrant workspace provides employees with the inspiration they need to think creatively and advocate passionately for your brand. No more bland mission statements and corporate slogans, bring your brand to life with a graphic flair that is unique to your company.
"CanvasPop helped us liven up our office with a unique way of displaying our logo" said Luc Levesque, founder of TravelPod.com. "In addition to getting our logo on canvas, we had some member photos framed and displayed on the walls which is a great way to remind us of what TravelPod is all about - the members."
As part of the program, CanvasPop has published an ebooklet entitled: 10 Inspiring Corporate Art Ideas – Extend Your Brand to the Walls that provides companies with corporate art ideas to transform their workspace into a creative and stylish reflection of their brand.
CanvasPop creates beautiful custom artwork by printing photographs or digital art on canvas using archival-grade printing techniques to create lasting works of art that are guaranteed for life.
"Whether you are a leading e-commerce company or a local car dealership, creating your own custom, branded corporate art on canvas is an affordable way to showcase your products, your people, or your brand," said Salamunovic.
A few of the ebooklet's corporate art inspirations include: Your logo on canvas, pictures of your employees, your mission statement as word art, and your product as pop art.
In addition to the ebooklet, CanvasPop is offering corporate clients a free, no obligation consultation with a office art consultant to discuss how best to brand their workspace and inspire their employees with stylish canvas prints.
Whether your workplace is a home office, local storefront or multinational corporate headquarters, CanvasPop can bring your walls to life with affordable, vibrant corporate art that inspires and reinforces the brand you worked so hard to build.
About CanvasPop:
CanvasPop is the web's most innovative provider of custom, high-quality canvas printing services. CanvasPop empowers photographers, digital artists, interior designers and everyday customers to print their images on high quality canvas. CanvasPop allows anyone to print any image, including Facebook and iPhone pictures, at virtually any size regardless of the original resolution of the image. CanvasPop's goal is to provide both consumers and professionals with the easiest way to print any image on canvas. CanvasPop has printing and distribution facilities in the United States, Canada and the United Kingdom. CanvasPop is a DNA 11 company. For more information please visit http://www.canvaspop.com.
Follow CanvasPop on Facebook at http://www.facebook.com/canvaspop and on Twitter at http://www.twitter.com/canvaspop.
###