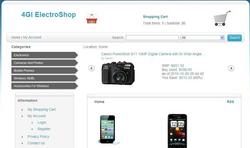 We know how much people like to shop, so 4Gi.net brings you a premium shopping site for Electronics and Accessories.
(PRWEB) October 25, 2010
4Gi.net introduces a huge range of products on electronics and accessories in a brand new site with great features. 4Gi.net will feature wireless mobile phones, iPhones, iPads, iPods and a lot more with easy navigation. Users will be delighted to find the best quality products with the best prices available without too much hassle.
4Gi ElectroShop features all the latest products like iPhones, iPads, Android devices, wireless devices accessories and other electronic accessories. There are tons of products and brands to choose from, as well. Buyers can reorder the search to sort with price, rating or alphabetically and best selling. 4Gi Electroshop has many featured products that are at high demand and have great save value for customers. Shoppers can sort the products with "Featured" options and all the top products appear with top ratings and with good discount rate available.
Shoppers at 4Gi Shop also have the option to setup a personal account in the site to track prices and bookmark product pages for later. The site also has a sophisticated search engine implemented that provides visitors and users with great accuracy to find products and help buyers find the products with ease.
4Gi ElectroShop is now officially open for the public to start shopping for the best prices. Feel free to visit 4Gi.net.
###