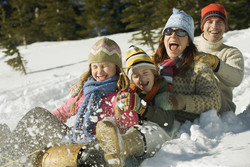 East Hartford, CT (Vocus) October 21, 2010
Travel Insured International, a leading third-party travel insurer, reminds family budget managers dealing with the challenging economy of 2010 that careful advance planning can make the difference between renewing a family travel tradition during this holiday season or staying home. Whether the preferred family gathering place for a year-end holiday is a relative's or friend's home, a festive city hotel, or a family resort, the trip planner who takes calculated steps to avoid overpayment for travel necessities can help make the celebration affordable instead of impossible.
The popular consumer airfare shopping website FareCompare.com publishes valuable advice on when to fly. It includes a dating chart listing surcharges that are built into airfares on different holiday season dates, with the extra costs matched among six competing U.S. carriers. The Fare Compare research reveals that Thanksgiving and Christmas Day have no peak airfare surcharges, unlike most days in the season that carry $10 to $30 surcharges each way. New Year's Eve and New Year's Day are almost as good, with $10 surcharges each day. The most expensive $30 per ticket fare surcharges this year are on Nov. 28 and 29, the Sunday and Monday after Thanksgiving; on Thursday, Nov. 23; and on Jan. 2-3, 2011, the Sunday and Monday after New Year's. There are no fare surcharges for those who can fly prior to Nov. 19, or between Nov. 30 and Dec. 16, or after Jan. 3. Attentive family budget managers will note the potential difference between flying with no surcharges or flying with $30 surcharges can be $60 per roundtrip ticket per family member.
Families can save additional costs on their outbound flights to the holiday gathering by purchasing gifts through the numerous online shopping services that will ship gifts ahead for free. Combined with organized packing to limit members to one carry-on bag each, families can avoid airline baggage fees ranging from $15 to $20 to $25 for their first checked bag, and more for a second or third bag. Several travel sites publish baggage fee charts for domestic and international airlines that are easy to find. At least one popular domestic airline advertises its bags fly free policy, a best opportunity for avoiding this travel cost.
Kids Are Free
When saving money by planning ahead on family holiday travel, a prudent parent will seek to protect the family's travel budget against Trip Cancellation or Trip Delay caused by unforeseen disruptions. For most families a sudden childhood illness, or one unwelcome winter storm can be enough to either force a holiday trip cancellation or cause lengthy delays and unforeseen expenses for food and lodging.
The affordable way to avoid both disappointment and lost prepaid trip costs is one of three types of Worldwide Trip Protector Plans from Travel Insured that include Kids Are Free coverage for one or more children under 18 traveling with their related adult. Families on the Worldwide Trip Protector comprehensive plan receive free coverage for all kids under 18 insured with their primary adult. Families on the budget-priced Trip Protector Lite or Trip Protector Lite Expanded plan receive free coverage for one child under 18 for each related adult enrolled on the plan and traveling with the child. All three types of plans include Trip Cancellation, Trip Interruption, Trip Delay, Baggage Loss and Delay, among other coverage. Common Carrier Accident insurance, Renter's Collision Insurance, and even Sports Coverage to protect against ski equipment delays or contact sports injuries are available options in all three plans.
Keeping the family's holiday travel celebration on the calendar in a struggling 2010 economy is still affordable with some educated advance travel planning. Don't forget to protect prepaid family plans, however, so that if the worst happens the celebration can still be rescheduled when the holidays are over.
About Travel Insured International
Travel Insured International, based in E. Hartford, CT, was founded in 1994 by the foresight of insurance industry executive Peter Gehris when he acquired the travel protection division of the Travelers Insurance Company. Coverage is underwritten by Arch Insurance Company (a Missouri corporation, NAIC #11150) with executive offices located in New York, NY. Arch Insurance is rated A ("Excellent") for financial strength by the insurance rating service A.M. Best. Not all insurance products or coverage is available in all jurisdictions. Coverage is subject to actual policy language
Travel Insured International
52-S Oakland Ave.
E. Hartford, CT 06128-0568
Contact: John Stone
Media Relations Manager
1-800-243-3174 x 117
jstone(at)travelinsured(dot)com
http://www.travelinsured.com
###