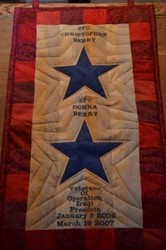 Kansas City, MO (PRWEB) October 21, 2010
MyBlueStarFlag.com announced that it will extend its custom embroidered Blue Star Flag give-away through the end of the year. Since June, MyBlueStarFlag.com has awarded five custom embroidered flags in honor of all of the military service men and women who have dedicated their lives to protecting our freedom. Each flag is handcrafted by veteran and expert quilt maker, Dave England. Anyone can enter to win by visiting, http://www.mybluestarflag.com/custom-blue-star-flag-giveaway-contest. The next recipient will be announced on November 15th.
"Dave's Quilts has made a generous donation of a custom Blue Star Flag to our program," said Carl Ferrara, director of Grantham University's Blue Star Flag program. "This program would not be made possible without the support and dedication of Dave England, and we are glad to extend this program, especially during this holiday season."
This month's contest winner is Julie Berry who dedicated the flag to her son and daughter-in-law, both of whom are serving at Ft. Bragg.
In addition to the handcrafted Blue Star Flags, MyBlueStarFlag.com also provides free Blue Star Flags that families can display to pay tribute to their service member's hard work, dedication, and service to our country. Anyone can request a free Blue Star Flag by visiting MyBlueStarFlag.com.
The Blue Star Flag first appeared in 1917, when an Army captain who had two sons serving on the front line designed it as a tribute to their dedication and service. The flag quickly became the unofficial symbol of a child in the service. Today, families who have a loved one serving in the military display a blue star flag in the inside front window of their homes to show the family's pride in their loved one who is serving and to remind others that preserving America's freedom demands much.
About MyBlueStarFlag.com:
MyBlueStarFlag.com is owned and managed by Grantham University, one of the oldest, private, post-secondary, degree-granting distance education universities in the United States. Since 2006, the MyBlueStarFlag.com program has provided more than 100,000 free Blue Star Flags to the families and loved ones of service members. In honor of all of the brave men and women in uniform, Grantham University is proud to sponsor this program and pay tribute to their hard work, dedication and service. For more information, visit: http://www.mybluestarflag.com/.
###