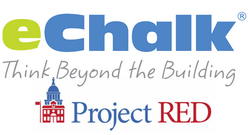 Establishing empirical data that support investments in education technology underscores what we, at eChalk, work to accomplish--to make learning more successful and to impact results
New York, NY (PRWEB) October 21, 2010
eChalk, the pioneer of web-based learning platforms for communication and collaboration in K-12 school communities, today reports its key findings in the areas of best practices for learning, social media, collaborative technologies and the frequency of practical use, from the results of Project RED's year-long study, of which eChalk is an institutional partner.
Project RED conducted a national survey of principals and district administrators to analyze two major issues: what technology models can lead to improved student achievement and how do investments in technology effect budgets in schools and districts. "We believe that properly implemented ubiquitous technology schools can produce dramatic improvements in achievement, be revenue positive at the state and federal level and contribute positively to issues of STEM, 21st Century skills and lifelong learning," notes Tom Greaves, Project RED management team member and CEO and Founder of The Greaves Group.
Technology Practices that Affect Learning the Most
Project RED research identified nine practices that affect learning, including the integration of technology into every class, regular use of games and social media by the students, technology integration into curriculum, online assessments, and virtual field trips.
Collaboration and Social Media
Project RED's research findings include that web 2.0 functionality and social media use substantially enhance collaboration productivity, erasing the barriers of time, distance, and money. Collaboration can now extend beyond the immediate circle of friends to include mentors, tutors, and experts worldwide.
Real-time collaboration increases student engagement, one of the critical components for student success. One of the results of increased engagement and buy-in is a reduction in disciplinary actions.
Frequency of Technology Use
The daily use of technology in core classes correlates highly to desirable Education Success Measures. Daily technology use was one of the top five indicators of better discipline, better attendance, and increased college attendance.
"Establishing empirical data that support investments in education technology underscores what we, at eChalk, work to accomplish--to make learning more successful and to impact results" details Martin Brutosky, CEO and COO of eChalk. "We have found our year of partnership to be highly beneficial to the education community as a whole."
About eChalk
eChalk helps school leaders, teachers, students and parents safely use the web to connect to learning, information and each other. eChalk streamlines communication in one secure, integrated and scalable online environment for everyone in a given school, district, ESA or state. Founded in 1999 and headquartered in New York City, eChalk hopes that by communicating more effectively among their stakeholders, K-12 school communities can better support teacher and student success. eChalk is available as a web-delivered software-as-a-service or as a locally-hosted enterprise solution. Whether schools communicate with a few or a few million, eChalk's easy-to-use and customizable tools - including websites, email, intranets, lesson planners and Web 2.0 technologies - help engage students, address individual learning needs, cultivate 21st century skills and provide necessary support for staff development. For more information on eChalk, visit http://www.echalk.com.
About Project RED
Project RED (Revolutionizing Education) is a national research and advocacy plan founded on the belief there is the need to revolutionize the way the U.S. looks at technology as part of teaching and learning. Project RED is conducting a national survey to analyze what's working in technology-transformed schools and to show how technology can save money when properly implemented. Through the efforts of Project RED and partners, technology can transform learning, just as it has transformed homes and offices in almost every other segment of our society. To learn more about and support Project RED, visit http://www.projectred.org.
Media Contact
The Sensible City
Ian Bryan
828.242.1868
ianbryan(at)sensiblecity(dot)com
# # #