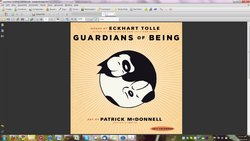 We specialize in working in a collaborative fashion… our designers, writers, and programmers worked closely with Patrick McDonnell and Karen O'Connell to respond to the MUTTS fans…
Cranbury, NJ (PRWEB) October 26, 2010
MUTTSComics.com and PRI, Inc., today announced the release of the Guardians of Being 2011 Wall Calendar, available through publisher Amber Lotus, Amazon.com and local bookstores throughout the country. The Guardians of Being calendar is the second collaboration between award-winning illustrator Patrick McDonnell and renowned spiritual teacher Eckhart Tolle.
Both best-selling authors in their own right, McDonnell and Tolle's previous collaboration on the book of the same name, Guardians of Being—was heralded in O, The Oprah Magazine as, "A book to make you wriggle with joy."
Consistent with Eckhart's' philosophy and McDonnell's commitment to animal welfare, the calendar celebrates a love of nature, animals, humans, all life. And, as part of their mutual commitment, a portion of the proceeds will be donated to related non-profit organizations.
MUTTS iGoogle Theme and Return of Pick-a-Print
MUTTS fans responded with delight to the re-launch last week of MUTTS Pick-A-Print and the availability of a free MUTTS iGoogle theme. PRI worked closely with MUTTS creator Patrick McDonnell to design and create a fun and inspiring iGoogle look now in use by more than 10,000 iGoogle users worldwide.
The Pick-a-Print collaborative effort by PRI and MUTTS Comics is a direct response to MUTTS fans' requests. Pick-A-Print allows fans to purchase any comic strip in the vast archive printed on high-quality archival, acid-free paper. Choices can be made by browsing the entire canon of the published MUTTS strips by date, or by a select group of themes chosen by McDonnell, including "Halloween."
Said PRI President Chintan Parikh, "We specialize in working in a collaborative fashion. In this case our designers, writers, and programmers worked closely with Patrick McDonnell and Karen O'Connell, wife and business partner, to respond to the MUTTS fans' continual call for high-quality reprints."
Behind the scenes, PRI developed an e-commerce interface that stays true to the retro-look, sound, and soul of the MUTTS characters, but takes advantage of advanced Web 2.0 technology. Email promotional campaigns employ PRI's proprietary MailWorks program to provide targeted, personalized, and action-oriented messaging to key customers, with advanced tracking and reporting tools.
PRI has worked with Patrick McDonnell since 2003 to provide a home on the web for the MUTTS comic strip. MUTTS characters are familiar to readers throughout the world for Patrick McDonnell's endearing animal-friendly/earth-friendly ethos, and Zen-like quality of picture and thought. MUTTS is distributed through King Features Syndicate, a division of Hearst Corporation, to more than 700 newspapers in more than 20 countries.
McDonnell recently received his sixthHarvey Award for the category, "Best Syndicated Strip or Panel" in August, and serves on the board of directors of The Humane Society of the United States and the Fund for Animals. MUTTS cartoons have been published in 16 compilation books and McDonnell has written several other books including MUTTS: The Comic Art of Patrick McDonnell, Shelter Stories: Love. Guaranteed, children's books Art, Just Like Heaven and the New York Times' best-sellers, Hug Time and The Gift of Nothing
About PRI
PRI, Inc., headquartered in Cranbury, New Jersey, is an award-winning design, editorial, and web development company. Founded in 1991, PRI provides full service website production and manages all related marketing and sales campaigns including print, direct mail, print/online advertising, and conference materials and planning. PRI specializes in online business applications and advanced technological solutions. PRI's website can be found at http://www.priworks.com. PRI can also be found at twitter.com/priworks, facebook.com/priworks, and linkedin.com/priworks.
PRI and WEB. MOBILE. PRINT. THE WORKS. are trademarks of PRI.
###