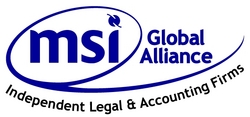 UK business and consumer confidence is fragile as a result of the recent government expenditure cut backs covering the next four years.
(PRWEB) October 26, 2010
Lawyers and accountants from 44 countries attending the International Conference of MSI Global Alliance, a leading international alliance of professional firms, today gave their verdicts on the outlook for the world economy.
And while there is cautious optimism among UK advisors about the UK's economy, levels of confidence are low when viewed against those of advisors in other countries regarding their own national economies.
The survey reveals that 71% of UK advisors are optimistic about the UK's economic prospects in the next 12 months. In contrast, 90% of respondents from countries outside of the UK are optimistic about their countries' own prospects.
Simon Wilks, Managing Partner at MSI Global Alliance's UK accounting firm member firm haysmacintyre, says: "This survey of a wide selection of commercial lawyers, accountants and tax advisors across the UK and 44 countries worldwide indicates that confidence is lower in the UK than overseas where a more upbeat mood prevails. It may be that the UK's caution is more realistic about the pace of the economic recovery. No doubt the problems in the real estate market – where some fear a double dip recession, imminent tax increases and the recent Spending Review cast a shadow over the general economic landscape here."
Joe Nellis, Cranfield University's Professor of International Management Economics, and the conference's keynote speaker, comments: "UK business and consumer confidence is fragile as a result of the recent government expenditure cut backs covering the next four years. In contrast, emerging markets look set to forge ahead relative to developed economies – not just on the back of trade, but more importantly, stemming from growth in their domestic economies as incomes and spending rise."
"The survey demonstrates that the prevailing view in the UK is that the situation cannot get any worse! In my view the UK is coming out of recession, but the question is whether growth will be sluggish or strong."
The survey also shows that UK professional advisors are more pessimistic about the prospects for the UK's property market in the next 12 months, with only 43% of respondents saying they are optimistic. In comparison, 67% of respondents from outside of the UK are feeling optimistic about the future for the property markets in their countries.
MSI Global Alliance's 21st International Conference is being held at the InterContinental London Park Lane Hotel and has attracted over 180 delegates from leading medium sized law and accounting firms in 44 countries worldwide. During the conference it has been announced that the association has expanded to its 105th country in the last 12 months following the appointment of new firms in Algeria, Bolivia, Philippines and Georgia.
###