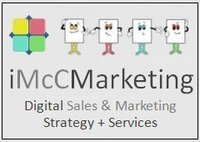 "iMcCMarketing's objective analysis of our business, competition & market really opened our eyes to many new options for our online sales & marketing efforts, including automated programs."
Atlanta, GA (PRWEB) October 21, 2010
Atlanta based marketer & entrepreneur Andy McCartney today launched a new digital consulting firm with the mission to help guide US & UK companies through the digital maze of online tools, channels & best practices that can be leveraged to dramatically improve sales & marketing effectiveness.
McCartney has spent the last 25 years consulting with hundreds of clients & running marketing functions for technology companies in North America & Europe. He senses the time is right to create a services business with a singular focus: "We are at the outset of a communications revolution & my goal is to assist business leaders & decision makers who need to understand their options, gauge their competition & maximize their opportunity."
"Progressive organizations willing to think out of the box can literally reinvent their ability to market & sell via innovative application of the latest online tactics. More & more of these tactics can be partially or fully automated, which means that relatively small sales & marketing teams can executive a significant range of highly effective programs. Sales & marketing are uniting further as revenue generating disciplines, & companies now need to employ an intelligent & creative mix of traditional & online programs in order to differentiate themselves."
It is widely regarded that the majority of inbound/outbound marketing functions can be transformed via digital practices, whether it is PR & brand awareness, demand generation & customer acquisition, or customer retention & loyalty. Social media in particular is playing a key role for B2C & B2B models in the sales cycle, both as a promotional & advocacy vehicle. Lead scoring & marketing automation is also a booming B2B sector right now, as is cross-channel campaigning, 1-1 communication practices, integrated mobile delivery & online media rooms.
Conversely, an abundance of online options brings the danger of expending effort & budget on inappropriate activities. Decision makers with an interest in leveraging digital sales & marketing should stop for a moment & consider the opportunity from 30,000ft before plunging into specific tactics with a view from 500ft without a plan.
iMcCMarketing LLC is positioned to deliver objective, agnostic & measured assessments & plans, based on each organization's unique market position, business model, competition, resources & calculated opportunity.
Visit http://www.imccmarketing.com or contact Andy McCartney at 404.271.3635 / andy(at)imccmarketing(dot)com.
###