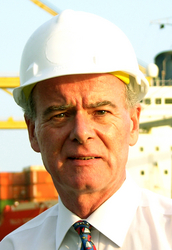 (PRWeb UK) October 22, 2010
Milford Haven Port Authority announced today the appointment of Dick Moore as its new Marketing Director.
Dick brings a wealth of experience in port development, sales and marketing. His skills will strengthen the senior management team at MHPA and provide a strong focus for the growth of the deep water port of Milford Haven; one of the most important energy hubs in the UK.
A former ship's master, Dick's subsequent career included the development of Port Sutton Bridge and a large number of international port development projects including those in Salalah, Xiamen and Bahrain. From 2003 to 2009 Dick was Marketing Director for the Port of Maputo which involved $70m dollar of investment and a fourfold increase in turnover, establishing Maputo once again as one of the principal trade gateways on the East African coast.
Alec Don, Chief Executive of MHPA said "I am delighted that Dick has joined us. He will play an essential role in the promotion of Milford Haven as a deep water port, building further on our position as one of the UK's most important energy hubs. This will include marketing our proposed Blackbridge development – a project that will include the build of a new multi-purpose berth with over 17m depth of water and a substantial area of back-up land which is vital to consolidate Milford Haven's position as one of the UK's largest and most vibrant ports."
Notes to Editors:
Milford Haven Port Authority
Milford Haven Port Authority is responsible for the biggest port in Wales, and the third largest port in the UK, handling just over 59m gross tons of shipping during 2009. One of the most prominent on the West Coast, it is in the heart of the Pembrokeshire Coast National Park, the only Coastal National Park in Great Britain.
Two Liquefied Natural Gas (LNG) facilities on its shores mean that a potential 30% of the UK's gas requirements will be processed through the Port. With 25% of the UK's petrol and diesel provisions already being handled on the Waterway, Milford Haven is emerging as the new energy capital of the UK.
Milford Haven Port Authority was awarded the title of 'Port Operator of the Year 2007' by Lloyd's List. During 2008, the Authority was a finalist at the National Business Awards, and was granted a Chartered Institute for Logistics and Transport (Wales) award for the 'Best Sustainable Distribution Project in Wales'. In 2009, it won Best Civil Project of the Year in the Wales Business Insider magazine Property Awards for its civil works preparations for LNG tankers.
Milford Haven is a trust port - an independent, commercially run organisation, and as a result, the Authority has a statutory responsibility to both Government and its stakeholders, and is required to reinvest all profits to the benefit of the latter. For further information, visit http://www.mhpa.co.uk
###