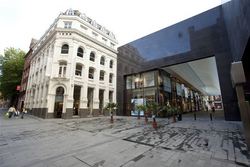 The Stannah Maxilift passenger lift is certainly helping this brand new branch of Jigsaw to establish itself as a fashion hotspot
(PRWEB) October 27, 2010
The £1billion, state-of-the-art retail destination and the largest city centre regeneration project in Europe has retained its key historic buildings. Jigsaw is housed within one of them – the former County Palatine Building on the corner of School Lane and Paradise Street, next to Peter's Lane Arcade.
AMD Interior Architecture themed the interior to reflect a grand house with individual rooms that blend original classical features with contemporary flair to create a shabby-chic paradise oozing 'decadence and faded grandeur'. The overall effect is comfortably reassuring and a world away from the bright, new city outside.
Finished in satin stainless steel with a suspended downlighter ceiling and a half-height mirror to the rear wall, the 10-person Maxilift complements the feature curved staircase to ease access throughout the two-storey store. Hydraulic drive delivers smooth operation and, with the motor room cabinet housed in the basement, Jigsaw's streamlined décor is uninterrupted by lift workings. The lift also helps the premises' owners meet with the requirements of the Equality Act 2010.
Jigsaw Deputy Manager, Nicola Clark, comments: "Investment and regeneration have given the retail business a new lease of life in Liverpool One, and anything that improves the shopping experience is a welcome asset. The Stannah Maxilift passenger lift is certainly helping this brand new branch of Jigsaw to establish itself as a fashion hotspot for bang-on-trend buyers."
###