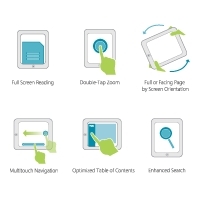 Dirxion will put your content everywhere that your end users may be and that's precisely the idea that is driving the future of our tablet and mobile development.
St. Louis, MO (PRWEB) October 26, 2010
Dirxion, a leading provider of digital publishing services, this month launched an iPad HTML5 version of their digital publishing solution to address readers' ever-adapting approach to accessing content that was traditionally print.
Their iPad "web app" complements their existing line of applications for the iPhone and iPod Touch, as well as Android devices.
Dirxion has made this first advance toward realizing their vision for digital publications on the iPad and other emerging tablet form factors. Their efforts on this platform will continue to grow over the course of the next few months, giving publishers a foundation to evolve and succeed in the mobile content revolution.
Why HTML5? "HTML5 enables us to take full advantage of the richer and more flexible design landscape, delivering a more consistent user experience compatible across more tablet devices than just the iPad - even the ones that are yet to hit the market," explains Brad Gorman, Mobile Business Development Manager at Dirxion.
For publishers, the iPad offers an opportunity to take a different approach to creating and monetizing their content through digital advertising using rich media content (integrated, interactive advertising, video and vertical ad integration) and paid subscriptions.
For readers, Dirxion's iPad version fuses together the very essence of today's consumer needs - mobility and total access. It offers readers the freedom of browsing and interacting with a publication anywhere and anyhow they please, allowing them to seamlessly move through the pages with the simple use of their fingertips on this multi-purpose device. Features like multi-touch navigation, double-tap zoom, orientation awareness, full screen reading, optimized table of contents and enhanced search all work together to truly enrich the experience of your print. And this is just the beginning. Dirxion has plans to add a series of new features to their iPad solution in the coming months to make the experience even more immersive.
"The future of publishing is undergoing a major transformation," said Steve Mitchener, President & CEO at Dirxion. "Our iPad HTML5 version expresses our strong commitment to assist publishing companies in adopting cross-platform business models that can incorporate both print and digital content. Dirxion will put your content everywhere that your end users may be and that's precisely the idea that is driving the future of our tablet and mobile development. We provide an easy and economical approach to delivering digital publications and now with the iPad version, we are able to tap into the intimate relationship consumers have with these mobile devices."
About Dirxion
For 14 years, Dirxion has been revolutionizing the way people access traditionally printed information by providing robust yet cost-effective digital publishing solutions that leverage and optimize print for the majority of the digital platforms available in today's market. Producing over 3,000 digital publications annually, Dirxion helps publishers from around the world reduce their print and delivery costs while simultaneously increasing the reach and effectiveness of their content. Dirxion is privately held and headquartered in St. Louis, MO. Its list of clients includes organizations that print and distribute catalogs, directories, newspapers, travel guides, books and magazines.
dirxion website I digital publishing blog I dirxion twitter page
If you're interested in making your content available on the iPad and would like to learn more about Dirxion's new endeavor, please watch the iPad demo on YouTube or visit the iPad publishing web page.
###