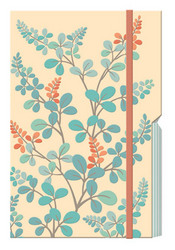 We enjoy creating products for people who are interested in creativity and organization.
Irvine, CA (PRWEB) October 21, 2010
Orange Circle Studio, who recently decided to expand its collection to include personal journals alongside wall calendars and organizational products, has hit the drawing board at full artistic speed. Their new line of Edgewise journals combines fresh and fun floral covers with exciting design details, setting a new, fashion-forward standard for personal journals: move over Moleskin! The exposed bindings, variegated pages and angle-cut edges of the Edgewise journal series embody the spirit of Orange Circle Studio: refreshing innovations to everyday organization.
"We enjoy creating products for people who are interested in creativity and organization," says Katie Rogers, Associate Editor and Web Marketing Manager for Orange Circle Studio. "A personal journal is the natural synthesis of both those things."
There are eight different Edgewise journals, each with lively, colorful covers designed by Orange Circle Studio's Art Director Eunmee Sanatar. The edges of each journal's pages are angle-cut, creating visual intrigue along with practical applications: "The angle-cut pages are fun and fast to flip through, and finding your page is easier than ever," explains Rogers. Alternating page color adds extra spice to the lined pages.
The Edgewise journals all have exposed bindings, allowing them to lie completely flat when opened. "This is one of my favorite features," says Rogers. "Writing on the left page is no longer cramped or a hassle." Each journal is complete with an elastic band, a snappy way to keep the journal closed and any notes or photos from slipping out. Four of the eight journals are full-sized (6'' x 9''), while the others are more pocket-friendly (4'' x 6'').
Edgewise journals are available exclusively online at Orange Circle Studio. Prices range from $13.95 for the large size, $9.95 for the small size.
About Orange Circle Studio:
In 2009, a group of friends daydreamed about art, innovation, and unique product design. It wasn't long until Orange Circle Studio was born, a publishing company that puts thought, passion, and amazing designs into every product it creates. From beautiful art calendars to super-functional planners to inspiring journals, Orange Circle Studio delivers. An added bonus: Orange Circle Studio strives to be environmentally responsible, and uses soy-based ink, FCS-certified paper and all recyclable materials on their calendars.
# # #