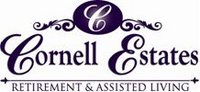 You get the best out of others when you give the best of yourself.
Hillsboro, OR (PRWEB) October 22, 2010
Cornell Estates and members of the Hillsboro Firefighter's Random Acts are gearing up for the 10th annual Christmas Marketplace Bazaar on Saturday, November 20th from 10am to 3pm in the Party Room. The annual bake sale will be held on Tuesday, November 30th from 10am to noon.
Thirty vendors from the Portland metro area will showcase their products. Local crafters, artists, seamstresses and others will be on hand with their handcrafted gifts, holiday décor, home sewn items, jewelry, floral, Mrs Claus, Carolers, Frosty, Rudolf and more. All vendor fees and donations from the Christmas Marketplace will benefit the Hillsboro Firefighters' Toy & Joy program.
Members of the Hillsboro Firefighter's Random Acts and their spouses will join the Cornell Staff on Tuesday, November 30th from 10am to Noon in Cornell's front lobby. This charity program was created by dedicated firefighters and employees from the City of Hillsboro who believe they can make a difference in the community in ways besides their emergency responses and daily interaction with the public.
Both events are opportunities for the community, residents, friends and family to shop for the holidays while supporting the Toy & Joy fundraiser. Help us reach our goal of $3000 for children in the Hillsboro area and start the holiday season in the spirit of giving and friendship.
Cornell Estates is located at 1005 N.E. 17th Avenue, Hillsboro. Call 503-640-2884 for more information.
###