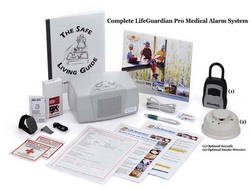 Oceanside, CA (PRWEB) October 22, 2010
Falling is a funny gag for comedians but when it comes to seniors, falling is no laughing matter. LifeGuardian Technologies LLC, distributor of life saving emergency medical alert devices, has announced a brand new medical alert device, LifeGuardian PRO™(http://www.lifeguardianpro.com) that will help keep seniors safe at home, and provide caregivers with a greater peace of mind. According to the CDC, "Among older adults, falls are the leading cause of injury deaths. They are also the most common cause of nonfatal injuries and hospital admissions for trauma" (CDC 2005). LifeGuardian PRO™ is a small lightweight, waterproof personal help button that can be worn around the neck, on the wrist or clipped to a belt or pocket.
"Falls are a very serious matter for seniors, their families and caregivers. LifeGuardian PRO™ was developed with home care workers, and caregivers in mind," said Thomas Franks, Company Director. "LifeGuardian PRO™ has specific features for the home health nurse or caregiver such as the ability to speak and listen over a two-way speaker phone."
An injury from a fall can result in seniors no longer being able to live independently, which can be emotionally and financially devastating to older adults and their families. Tom and Pat Fortheringham are all too familiar with the costs of falling. Three years ago, Tom's dad passed away after falling at home and hitting his head. The experience caused Tom and Pat to take action when mom Gladys began falling. "Mom lives alone and is very independent, but we live 3 hours away half the year, and 12 hours away the other half, so we were worried. LifeGuardian PRO™ has given us peace of mind. We know that if she falls she will immediately get help," said daughter-in-law, Pat.
The LifeGuardian Medical Monitoring Center has specialized in medical monitoring for over 25 years and has successfully responded to over 3,000,000 alarm calls. The company continues to offer the LifeGuardian standard model to consumers and caregivers. LifeGuardian PRO™ is available exclusively through the Authorized Provider Program. The advanced system offers unique features such as:

A sealed call for help button, that is waterproof to 30 feet under water.
An optional long-range call button that can signal for help up to 1500' away.
Immediate text and/or email notifications to up to three caregiver or family contacts if the call button is activated.
The ability to answer the telephone by pressing the call-for-help button, avoiding the risk of falling by rushing to answer a ringing phone.
Up to eight automatic customized reminder messages can be programmed. Providers can remind seniors to take medications, eat or other important information that seniors may forget.
Two-way speakerphone that allows health care workers and/or caregivers to call in and check on seniors. If there is no response, help can be dispatched immediately.
Physicians, pharmacists, assisted living facilities, home care workers and other providers can sign up for the Authorized Provider Program at http://www/lifeguardianprovider.com. To learn more about LifeGuardian PRO™ visit http://www.lifeguardianpro.com.
About LifeGuardian
LifeGuardian Technologies, LLC is a wholly-owned subsidiary of Clayton Communications, Inc. based in Las Vegas, NV and with offices in San Diego, CA. Clayton Communications, Inc. specializes in the distribution of wireless emergency medical alarms and GPS-enabled life safety systems.
For Additional Information, Please Contact:
LifeGuardian Technologies Contact:
Thomas Franks, Director
(800) 209-3813
http://www.lifeguardianmedicalalarms.com
service(at)lifeguardianmedicalalarms(dot)com
# # #