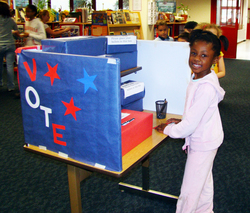 The Mock Election gives students of all ages and their parents the opportunity to vote for their local governmental representatives and respond to key national issues facing our country. For more than 30 years, we've seen this process teach young Americans about the power of voting
Washington, D.C. (PRWEB) October 20, 2010
The 2010 mid-term elections are just around the corner and America's students are actively engaged in the process. Students - from kindergarten through college - will be joining the National Student/Parent Mock Election(NSPME) to vote for their candidates of choice on October 28, just days before the rest of the nation takes to the polls.
The NSPME, which topped five million votes in the 2008 Mock Election, is a free national voter-education program that enables young Americans to participate in the electoral process. All students, parents, and educators are encouraged to register at http://www.nationalmockelection.org.
On October 28, participants in all 50 states will cast votes for every seat in the House of Representatives, one-third of the seats in the Senate, and 37 gubernatorial races. Students can also vote on four national issues: the economy, energy, health care, and immigration. The NSPME will post voting results, tallied by independent online survey company Zoomerang, on its website that evening.
"The Mock Election gives students of all ages and their parents the opportunity to vote for their local governmental representatives and respond to key national issues facing our country. For more than 30 years, we've seen this process teach young Americans about the power of voting," said NSPME President Gloria Kirshner. She continued, "This year, it's imperative that we educate tomorrow's leaders about the importance of mid-term elections. We want our students to understand that civic responsibility is about more than a presidential election every four years."
In addition to voting, Kirshner said students, parents, and educators can access an array of educational materials through NSPME and its partners. These materials, which are aimed at teaching students about the voting process and their citizenship, include classroom curriculum, educational games, animated videos, and guides to each of the key ballot issues.
Kirshner added, "As W.B. Yeats said, 'Education is not the filling of a bucket but the lighting of a fire.' The Mock Election, as the nation's largest civic education project and the world's largest national mock election, seeks to light a fire that will last a lifetime. As a telling example, we consistently hear from parents who have participated as children and want their children to have the same experience."
The National Student/Parent Mock Election receives support from numerous companies and organizations, including Google, the education services and technology company Pearson, USA Today, online animated educational resource provider BrainPOP, the National Association of Broadcasters Education Foundation, voter registration advocacy group Declare Yourself, the National Association of Secondary School Principals (NASSP), the National Association of Student Councils (NASC), the national PTA, and business intelligence firm Barquin International. The Kaplan Foundation also provides ongoing funding for the Mock Election.
The collective contributions of all supporters help NSPME create a richer and more meaningful experience for students, parents and teachers. For more information, to register to vote, or to find your state-specific ballot, go to http://www.nationalmockelection.org.
About the National Student/Parent Mock Election
The NSPME is the nation's oldest, largest and most successful voter-education project, dating from 1980. Since the first Mock Election in 1980, nearly 50 million young voters have cast their ballots and, in the process, discovered what it means to be an American citizen and the value of citizenship in our democracy.
Contact:
Gloria Kirshner
NSPME(at)aol(dot)com
Kate Miller
kate(dot)miller(at)pearson(dot)com
800-745-8489
###