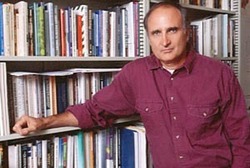 "We feel our efforts complement those of Dr. Orr and GreenerU by putting students in touch with 'what's happening in the boiler room' and involving them in the process of making campuses more sustainable."
Boston and Greenfield, MA (PRWEB) October 26, 2010
The oldest and largest regional sustainable building and renewable energy event in the country, BuldingEnergy11, will feature Dr. David Orr as the keynote speaker this year. Dr. Orr is one of the nation's most highly regarded authorities on the environment. He is a passionate scholar, teacher, advisor and speaker on the future of the planet. He is the author of six books on the subject and co-editor of three others with his most recent, Down to the Wire: Confronting Climate Collapse (Oxford University Press, 2009) being hailed as a "wake up call". Dr. Orr has worked with the Obama administration to define a 100 days climate action plan and is involved in determining the rights of future U.S. citizens given the impact of the present generation's actions.
He has most recently been recognized for his work fundraising, designing and building the Adam Joseph Lewis Center on the Oberlin Campus where he is the Paul Sears Distinguished Professor of Environmental Studies and Politics. The building has been identified by the U.S. Department of Energy as "One of Thirty Milestone Buildings in the 20th Century." In addition to the Center purifying all of its wastewater, it is the first college building in the U.S. to be completely solar-powered. This building is not just a model for sustainability for universities but also served as a hands-on laboratory training students for careers in solving environmental problems. Dr. Orr has developed a plan to make Oberlin climate-neutral, which the college has pledged to support, and would like to see at least 1,000 colleges and universities follow suit by 2020.
"David Orr represents the best in climate and sustainability leadership on college campuses," said Rob Pratt, CEO of GreenerU and the former Director of the Massachusetts Renewable Energy Trust. "GreenerU is proud to partner with NESEA in sponsoring this year's BuildingEnergy 11 and Dr. Orr's participation in view of our mutual dedication to the "greening" of college and university campuses." GreenerU works with colleges in implementing large-scale energy efficiency, sustainability and behavioral programs that reduce energy consumption and carbon emissions. The company is currently working with two Massachusetts schools, Babson College and Clark University, on major projects that will significantly reduce energy and water consumption while shrinking each campus' carbon footprint.
NESEA is actively engaging students as part of their mission to expand public consciousness. College students participate in a Student Design Competition, a free student workshop and daily mentoring sessions with NESEA members at the Building Energy Conference. NESEA also supports the work of Solar Decathlon teams in the region. "We feel our efforts complement those of Dr. Orr and GreenerU by putting students in touch with 'what's happening in the boiler room' and involving them in the process of making campuses more sustainable," said Jennifer J. Marrapese, JD, MA, Executive Director of NESEA.
"We at NESEA have been talking and thinking about renewable energy and green design for many, many years, long before it was the topic of the day. We're thrilled that leaders like Dr. Orr and GreenerU are on the frontlines when it comes to raising our next generation of environmental leaders," said Marrapese.
Also at BE11, the winner of NESEA's Zero Net Energy Award and the $10,000 prize will be announced. Entries, which must be received by December 15, 2010, must include a full year's worth of energy data. A jury of green design experts will critique the entries and determine the winner. For more about the Zero Net Energy Award and eligibility requirements: http://www.nesea.org/inspirationawards/zeroenergy/
The conference includes 64 sessions and 25 full- and half-day workshops. The trade show floor will feature some 170 exhibitors and the latest technologies, products and services.
About NESEA
NESEA is the Northeast Sustainable Energy Association (http://www.NESEA.org), a leading regional advocacy and membership organization dedicated to promoting sustainable energy practices and whole systems thinking. For more than thirty years, NESEA has supported and inspired a growing network of professionals and sustainable energy experts committed to responsible energy use. The organization communicates information about a wide array of sustainable solutions, provides detailed project case studies with proven results and compelling metrics, and offers access to cutting-edge technologies and creative approaches. NESEA's members hail from the 10 Northeastern states, from Maine to Washington, D.C. NESEA members are "practical idealists" – passionate about the need for interdisciplinary collaboration in order to create a healthy, efficient built environment powered by clean, renewable energy. NESEA members believe achieving these ends will strengthen the economy, create new jobs, and heal the environment.
About Building Energy
Building Energy is NESEA's annual conference and tradeshow, now in its 36th year. Held in Boston every March, Building Energy is the oldest and largest regional building energy and renewable energy conference and trade show for practitioners in the Northeast. NESEA's Building Energy 2011 takes place March 8 – 10, 2011 at the Seaport World Trade Center in Boston. The theme of this year's show is 'The tribe gets stronger every time it meets.' To register, call 413.774.6051 or visit our website for online registration at http://www.nesea.org/buildingenergy/.
About GreenerU (formerly EnergyClimate Solutions)
From comprehensive energy efficiency programs to behavioral change initiatives, GreenerU partners with colleges and their students to solve the campus sustainability and energy management challenges of today and tomorrow. Learn more at http://www.GreenerU.com.
# # #