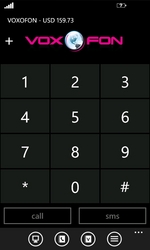 Voxofon develops products with people in mind. This is why Voxofon is first out there to offer easy and cheap international communication from any country on Windows® Phone 7.
Houston, TX (PRWEB) October 21, 2010
Voxofon enables low-cost international VoIP calling and text messaging on Windows® Phone 7 at launch, allowing users of the new smartphone to stay in touch with their friends, family and business contacts around the world. In addition they can call VoIP destinations, such as Skype™, SIP, Google Talk™.
The world is getting smaller, and a lot of people now have friends living all over the globe. The businesses are no longer limited to one city or even country. People travel, move, and global communication becomes an essential part of their lives.
Those who have a busy lifestyle and need to stay in touch with their contacts on the go, from anywhere at any time, will find many ways to make high quality budget-friendly international calls at http://www.voxofon.com. Voxofon is known for providing calls abroad and allowing to send international text messages from Android™, BlackBerry®, iPhone™, Palm®, and Windows® Phone 7 smartphones. Any mobile or landline phone can be used for cheap international calls.
About Voxofon
Voxofon is a Houston-based Mobile VoIP company that provides technologically advanced, easy-to-use IP communication services for individuals and businesses. Voxofon delivers high quality, efficient customer support and cheap international rates. There are no monthly fees, no downloads, and calls abroad are available from any phone. For more information, visit http://www.voxofon.com.
# # #