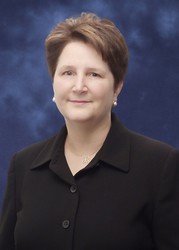 I look forward to welcoming Michelle to Trinity Health and have great confidence in her proven leadership skills and in her natural collaborative gifts
Novi, MI (Vocus) October 21, 2010
Trinity Health announced today that Michelle Block Schreiber, MD, has been appointed Senior Vice President and Chief Medical Officer, Trinity Health, Novi, effective December 1, 2010. In her new role she will join Executive Vice President and Chief Clinical Officer Terry O'Rourke, MD, in providing executive leadership for physician services throughout Trinity Health, including 46 acute-care hospitals in nine states.
"I look forward to welcoming Michelle to Trinity Health and have great confidence in her proven leadership skills and in her natural collaborative gifts," said O'Rourke. "We believe that her leadership will help further improve patient care, quality and safety, while nurturing excellent physician relationships and engagement, and a truly collaborative practice throughout our entire system."
Schreiber has nearly 30 years of health care experience and brings significant administrative expertise to the position, most recently serving as the Senior Vice President, Chief Quality and Safety Officer for the Detroit Medical Center system. In that role since 2007, she held responsibility for the quality and safety of the DMC's eight hospitals — nearly 2,000 beds and 95,000 discharges per year. Previously, she served in various clinical, administrative and educational roles within the Henry Ford Health System. She also serves on the faculty of the Wayne State University School of Medicine.
At Trinity Health, Schreiber will act as an internal consultant to senior leadership and medical staff leaders throughout the UEM, providing strategic direction in the area of medical staff engagement and expertise in medical staff functions and championing the electronic medical record as a way to better clinical environments.
"Throughout my career, the most rewarding opportunities have been related to quality and improvement of care," said Schreiber. "At Trinity Health, where every decision is focused on creating excellence in the care experience, this will be my sole focus, whether I am assisting with medical staff recruiting or supporting clinical process redesign. I am thrilled to be a part of it."
Schreiber's professional experience, before joining with DMC, includes serving as Senior Staff Physician in the Henry Ford Health System, where she also served as Associate Program Director, Internal Medicine Residency Program; Division Head, General Internal Medicine; and as Associate Medical Director, Henry Ford Hospital, among other roles.
Schreiber holds a holds a B.A. in Biology and Humanities from Case Western Reserve University in Cleveland, Ohio, and an M.D. degree from that institution's School of Medicine. She is married and has two adult children and two dogs.
About Trinity Health
Trinity Health is the fourth-largest Catholic health care system in the country. Based in Novi, Mich., Trinity Health operates 46 acute-care hospitals, 379 outpatient facilities, 33 long-term care facilities, and numerous home health offices and hospice programs in nine states. Employing more than 47,000 full-time staff, Trinity Health reported $7.0 billion in unrestricted revenue in fiscal year 2009. As a not-for-profit health system, Trinity Health reinvests its profits back into the community through programs to serve the poor and uninsured, manage chronic conditions like diabetes, health education and promotion initiatives, and outreach for the elderly. In fiscal 2009, this included nearly $400 million in such community benefits. For more information about Trinity Health, visit http://www.trinity-health.org or become a fan of the Trinity Health Facebook page at http://www.facebook.com/trinityhealth.
###