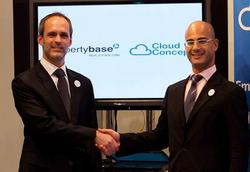 Offering local support is a key part of our international growth strategy
Munich and Dubai (PRWEB) October 20, 2010
Propertybase, the world's leading on-demand real estate CRM, and Cloud Concept, the Middle East leader in cloud computing services, today announced a partnership where Cloud Concept will provide technical and functional support to Propertybase customers in the Persian Gulf region, including customization, integration, training, and support services.
The partnership combines Propertybase's deep domain expertise in real estate sales, leasing, and inventory management, with Cloud Concept's technical credentials and presence on the ground near Propertybase customers in the Gulf. The combined strengths of both companies will enable customers to maximize their return on investment.
"Offering local support is a key part of our international growth strategy," says Max-Michael Mayer, Managing Director of Propertybase. "Customers really enjoy the security of knowing they have a regional representative in their neighborhood offering service and support in their native language."
Mayer also notes another benefit: "When we have experts like Cloud Concept to help deliver and support the product in the field, it frees us up to focus on innovation and development. That's why we offer a Partner Program, inviting service providers around the world to profit from referrals, consulting, or reseller relationships."
In announcing the partnership, Sami Caracand, CEO of Cloud Concept, said: "This is a perfect fit, since Cloud Concept is a Registered Consulting Partner with salesforce.com, the provider of the technology upon which Propertybase is built. Propertybase is a unique solution in the real estate software category, and we are proud to be associated with them."
Long-time Propertybase customer Martin Ashkuri, Managing Director Sales of Dubai Lifestyle City, added: "We use Propertybase to manage all our sales & marketing activities, so it's great to know that there will be local support in the Gulf region through a highly respect firm like Cloud Concept."
About Propertybase
Propertybase is the leading real-estate CRM solution built entirely on the Force.com "software as a service" platform. That means it exists entirely "in the cloud" and requires almost no IT investment or development from its users. Propertybase offers real-estate-specific sales, marketing, and after-sales tools, and provides a complete front- and back-office application for real estate developers, brokers, and agents. It integrates smoothly with any website and can exchange data with leading real estate portals everywhere. Propertybase has clients in Europe, North America, the Middle East and Australia with references such as Daniel Island (the leading lifestyle community in North America), Dubai World Central (Developer of the world's largest airport community), Mubadala (Sovereign Wealth Fund of Abu Dhabi), and more. Propertybase is Made in Germany with its headquarters in Munich. For more information please visit http://www.propertybase.com.
About Cloud Concept
Cloud Concept is 100% about cloud computing. We offer services and solutions built using leading-edge cloud technologies. Over the last 12 months we helped dozens of enterprise customers improve service and cut costs in multiple industries, including financial services, contracting, distribution, and aviation. Cloud Concept is a Registered Consulting Partner for salesforce.com, Google Apps Authorized Reseller, and official Amazon Web Services Solution Provider. For more information, visit http://www.cloudconceptgroup.com.
For further information:
Cloud Concept
Sami Caracand
T +971 4 884 8250
F +971 4 884 8251
http://www.cloudconceptgroup.com
Propertybase
Max-Michael Mayer
T +49 173 258 2876
Propertybase
http://www.propertybase.com
###