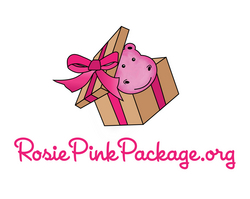 "I designed the Rosie Pink Package to help moms undergoing breast cancer treatment make this journey a little less scary for their children, and to help moms and children create and enjoy many cherished moments together."
Jersey City, NJ (PRWEB) October 21, 2010
A new website – RosiePinkPackage.org – has been launched to help mothers fighting breast cancer create and connect with their children through simple and deeply engaging creative activities.
Breast cancer survivor and mom Kimberly Bloom, who is the owner of online natural toy retailer RosieHippo.com, was inspired to create the new website by the mothers she met in her breast cancer support group. Even though each faced a life-threatening illness, Bloom noticed that the mothers in the group were most concerned about their children and helping them cope with their diagnosis.
"What I noticed most is that the mothers were so strong. They were so concerned about their children, about maintaining a normal life, about not having their children be worried or afraid," said Bloom. "I designed the Rosie Pink Package to help moms undergoing breast cancer treatment make this journey a little less scary for their children, and to help moms and children create and enjoy many cherished moments together."
The website features:
Rosie Pink Package products developed exclusively for moms with breast cancer and their children that are a unique blend of art, music, reading and pretend play designed to help moms and children stay connected through sharing. Rosie Pink Package products can be purchased separately or in two gift set configurations: the full Rosie Pink Package for $99, or a Mini Rosie Pink Package for $49.
Create and Connect area featuring creative project ideas, resources and a Healing Through Creativity blog by registered art therapist Catherine Rogers Jonsson. Additional resources --including Healing Through Play by Robyn Gobbel, a Texas licensed clinical social worker specializing in children and families, and Healing Through Music by award-winning musician and composer Charlie Hope -- are in development for launch in November.
Share section for mothers to share their experiences and personal journeys in the breast cancer fight via A Mother's Journey message board, separate galleries to post artwork and journal entries as well as the Me and My Mom Page gallery, where moms and kids can create their own web pages to share their stories.
The website also accepts tax-deductible donations. Those donations, as well as the proceeds from the sale of each Rosie Pink Package, are used to provide low-income mothers fighting breast cancer with Rosie Pink Packages.
"Seven years later, I am so lucky to have made it through successful treatment and to have a child," said Bloom. "He is the absolute joy of my life. I love to watch my son learn and grow, and want him to be healthy and happy in the world. And now I understand what those moms must have been feeling."
RosiePinkPackage.org is a 501 (c) (3) nonprofit organization. Supporting partners include The Young Survival Coalition, RosieHippo.com, registered art therapist Catherine Rogers Jonsson, family counseling specialist Robyn Gobbel and award-winning musician and composer Charlie Hope.
For more information, visit http://www.RosiePinkPackage.org.
# # #