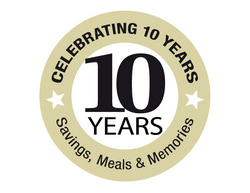 With such a commitment to quality, it's no wonder that Public House has quickly become a favorite spot among locals and visitors alike
Arlington Heights, Ill. (PRWEB) October 21, 2010
Restaurant.com today announced that Public House, with neighborhood locations in Philadelphia, New York City, Maryland, and Delaware, has been selected as the "Restaurant of the Month" for October.
Public House caters to the hard-working community, which has quickly made it a tradition to turn to the restaurants' relaxed, neighborhood atmosphere as a culinary refuge. Restaurant.com selected Public House for the spotlight based upon the chain's popularity with local east coast diners, its dedication to superior service and its take on "upscale American" fare that draws on influences as diverse as American Southwestern and Southeast Asian.
"With such a commitment to quality, it's no wonder that Public House has quickly become a favorite spot among locals and visitors alike," said Cary Chessick, Restaurant.com president and CEO. "The atmosphere and staff are welcoming and the food is unique; it's the kind of restaurant we're proud to have on the Restaurant.com program and recognize as 'Restaurant of the Month'."
As part of the recognition, Public House is featured on the Restaurant.com homepage with a link that directs site visitors to the "Restaurant of the Month" webpage: http://www.Restaurant.com/PublicHouse. The webpage offers information on Public House's extensive menu, which includes American favorites with a twist, such as mac-and-cheese squares soaked in a balsamic tomato sauce and shaved ribeye steak with chipotle peppers. In addition, the webpage prominently displays a gallery of pictures that take site visitors through the restaurant's unique floor plan and spotlights Public House's décor that pays homage to American culture. The page also provides links to the six other restaurants on the Restaurant.com program that are part of the Public House family which operate under different names, which include Black Finn and Wicker Park, New York, N.Y.; City Tap House, Field House Sports Bar and Mission Park, Philadelphia, Penn.; and Field House, Baltimore, M.D.
Originally founded in 2005, Public House was established on the chain's mission to be a leader in the bar and restaurant industry. Public House locations include Philadelphia, New York City, Oxon Hill, Md. and Wilmington, Del. While all Public House locations feature distinctive, American-inspired cuisine, the Philadelphia location in particular celebrates everything that is America through its patriotic décor of subtle stars and stripes, which can be found throughout the establishment. And, with something unique at every location, The City Tap restaurant keeps over 60 beers on tap, including 48 craft beers for those looking for a specialty brew.
"We pride ourselves on maintaining a solid reputation that our patrons rely on, so being honored by Restaurant.com for its "Restaurant of the Month" program reflects on our commitment to offer guests an enjoyable dining experience," said Gary Cardi, one of the founding partners of Public House.
Throughout 2010, Restaurant.com is paying tribute to devoted customers, restaurant partners, clients, staff and community members through a series of 10-year anniversary activities. The Restaurant of the Month program continues the celebration. On the Public House "Restaurant of the Month" webpage, Restaurant.com includes a search box of popular cities so site visitors can find additional "10 Year Anniversary Featured Restaurants" in their area and explore other options in the Restaurant.com program. Public House joins other restaurants honored by the program such as Christopher's at the Biltmore Fashion Park, SkyCity, Philly G's, Trece Mexican Kitchen and Tequila Lounge, The Claddagh Irish Pub, and Fior d'Italia since the program's launch in March. To learn more about the Restaurant of the Month program and the spotlighted restaurant for October visit: http://www.Restaurant.com/PublicHouse.
About Restaurant.com
Restaurant.com is the trusted and valued source connecting restaurants and diners nationwide. The company offers savings at more than 15,000 restaurants nationwide with more than 35,000 daily gift certificate options. Restaurant.com brings people together to relax, converse and enjoy well-prepared and -served meals at affordable prices. To date, Restaurant.com customers have saved more than $500 million through the gift certificate program. Restaurant.com has operated since 1999 and is based in Arlington Heights, Ill.
###