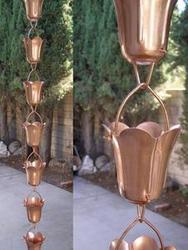 RainChains4Less.com sells the Highest Quality, 100% Pure Copper Rain Chains at the most Affordable Prices.
Fort Lauderdale, FL (PRWEB) October 22, 2010
Rain chains are becoming more popular every day. Consumers can find them at big retailers, nurseries and online stores. Yet, when shopping online, making the right choice can be difficult. The online consumer cannot hold the product in their hands nor feel the weight or quality of the construction. This is unfortunate because there are huge differences in the quality of rain chains, depending upon how they are manufactured.
It is easy to be an educated consumer ... Ask Questions! Become familair with the the product and do some research. When choosing a rain chain, there are some important features to be considered:

Material . . . RainChains4Less only sells 100% pure copper rain chains. Other retailers are selling "copper coated" chains which are adversely affected by water and other weather conditions. Copper is also a "green" reusable resource.
Length . . . RainChains4Less sells full length rain chains which are sufficient for any single story house. The installed length is 8 feet. Other retailers are selling chains that are 6 feet in length and are trying to pass them off as full chains, please don't be fooled. Additionally, they offer extension chains in 4 foot lengths for custom built homes and taller structures.
Quality . . . RainChains4Less only sells rain chains that are molded, not welded. Other retailers manufacture their rain chains in pieces and then weld them together to keep their production costs down; however, a variety of climate conditions have caused the welded chains to warp and malfunction. That is never a problem at RainChains4Less.
Price . . . RainChains4Less works on small profit margins to be competitive in the market place and to make their rain chains more affordable. Other retailers post "attention-grabbing" offers like free shipping in their ads. Shipping is never "free". It always costs money and is usually included within the purchase price.
Service . . . RainChains4Less takes pride in providing the best possible customer service. They make every effort to ship their orders the same day they are received. They welcome your questions and are always on hand to help their customers with any concerns and/or special needs.
RainChains4Less has designed its online store to be user friendly. An important feature that helps them keep costs low is a dropdown shipping list, displaying different shipping methods together with each carrier's fees. Customers can decide how much to spend as well as how long it will take to reach them.
Everyone should be encouraged to look around and compare all these characteristics. Consumers can be confident that they will find that RainChains4Less offers the best quality at the best prices. RainChains4Less has a goal to provide it's customers with efficiency, exceptional products and the best customer service. Take advantage of their Pre-Holiday Sale.
http://www.RainChains4Less.com
###