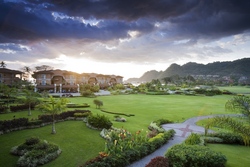 "Altavista will complement our existing community and will offer owners the same great access to a world-class, award-winning resort and Costa Rica's first government-sanctioned, full-service international marina."
Herradura Bay, Costa Rica (PRWEB) October 21, 2010
Los Sueños Resort and Marina, an 1,100-acre master planned destination community, will begin construction on the Altavista Los Sueños condominium residences in December 2010. Located at Herradura Bay on the Central Pacific Coast of Costa Rica, Los Sueños is a perfect escape for those who seek understated luxury and a comfortable lifestyle in a tropical climate or are looking to invest in a vacation home in increasingly popular Central America.
Los Sueños Resort & Marina currently features a private 600-acre rainforest reserve; the 201-room five-star Los Sueños Marriott Ocean & Golf Resort; a full-service, 200-slip international marina; an exclusive Beach Club for residents; and the 18-hole La Iguana championship golf course. With over 500 luxury single-family homes, lots, condominiums and villas already sold, Los Sueños begins construction on Altavista Los Sueños. Consisting of three-bedroom condominium residences ranging from 1,750 to 2,100 square feet and priced from $589,000 to $749,000, Altavista Los Sueños epitomizes the affordable comfort, convenience and luxury for which Los Sueños is known.
"Our goal with Altavista Los Sueños was to create a new collection of high-quality ocean view residences that responded to today's market demands," says developer William Royster. "Altavista will complement our existing community and will offer owners the same great access to a world-class, award-winning resort and Costa Rica's first government-sanctioned, full-service international marina."
Altavista Los Sueños joins the development's exclusive portfolio of luxury resort residences that range from one, two and three bedroom condominiums to single-family homes. All Los Sueños residences feature phenomenal views of the resort, golf course and rainforest reserve and some include remarkable views of Los Sueños' handsomely designed international marina and the awe-inspiring expanse of Costa Rica's Central Pacific Coast, famous for dramatic sunsets. Other Los Sueños communities include Riviera and Malibu at Altamira, Marbella Condominiums at Altamira, Montebello Residences at Altamira, Colina Condominiums, Del Mar Condominiums and Bay Residences at Del Mar.
Los Sueños Resort and Marina is the most successful resort development in Central America with record-breaking home sales, a marina that is considered the best in Latin America for its world-class facilities and renowned bill fishery, and the highly acclaimed Los Sueños Marriott Ocean & Golf Resort. The next eight years will see the completion of the remaining phases of Los Sueños, including the final phase of Marina Village, several hundred additional luxury residences and the construction of an eco-lodge in the rainforest reserve.
Spectacular natural beauty and peaceful atmosphere attract a growing number of travelers, investors and home buyers to Costa Rica every year. Nine active volcanoes, diverse forest environments, hot springs, wetlands, lakes, island reserves and 600 miles of beaches on two coasts provide endless possibilities for activities ranging from hiking and white water rafting through national parks to surfing, snorkeling and scuba diving off the Pacific and Caribbean shores. The world leader in ecological protected areas, with 27% of its land mass designated as national parks or reserves, Costa Rica affords the unparalleled opportunity to see and live among colorful and fascinating birds and animals in their natural habitat.
# # #