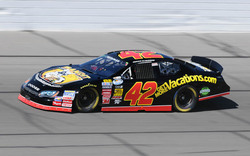 I am excited for this opportunity to compete in the NASCAR Nationwide Series
Destin, FL (Vocus) October 21, 2010
Brandon McReynolds is the son of Larry McReynolds, the two-time Daytona 500 winning crew chief and current television analyst for NASCAR on SPEED and Fox Sports.
"I am excited for this opportunity to compete in the NASCAR Nationwide Series," McReynolds said. "I grew up in the NASCAR garages, so it is thrilling to be able to compete this weekend at Gateway. I'm honored to have opportunity to compete against the best in the sport. I have to thank everyone at Team 42 Racing for their support. It means everything to me to have the shot to compete in the Nationwide Series."
McReynolds will be promoting GetMoreVacations.com. GetMoreVacations.com returns as a sponsor to Team 42 to continue promoting the Gulf Coast after the oil spill to encourage tourists to come back to the area. Every vacation rental on GetMoreVacations.com includes free activities like golf, theater shows, water parks and amusement parks every day of your stay.
GetMoreVacations.com was launched in April of 2008 by Amenity Services, Inc. (ASI). ASI is the nation's leading provider of free to guest amenity programs to vacation rental property management companies. GetMoreVacations.com has participating properties in Alabama, California, Florida, North Carolina, South Carolina, Tennessee, Vermont and West Virginia.
President and CEO of ASI, Darrell Blanton, says, "We are proud to partner with Brandon for his Nationwide debut this Saturday. GetMoreVacations.com is extremely pleased to have such a talented young man like Brandon drive for us."
Visitors to GetMoreVacations.com can register to win a free vacation. With one click on the GetMoreVacations.com website you can register to win the WinBigGMV Vacation Sweepstakes. Registrants will have the opportunity to win a 4 day, 3 night vacation and receive free lodging accommodations in a 2 bedroom rental property at one of GetMoreVacations.com's properties. Visitors can also view live webcams and receive vacation updates on Get More Vacations' Facebook page.
###