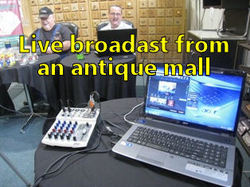 "Antique stores and malls can take their business outside of their four walls"
Phoenix, AZ (PRWEB) October 26, 2010
iAntique.com, the internet's most comprehensive and interactive antiques website has opened its 24/7 doors for business with the goal of bringing the romance back to the hobby -- and business -- of antiquing.
iAntique.com is the first, and only, truly social media channel dedicated to all things antiques. Unlike other basic online antique portals, iAntique.com offers live and recorded Internet broadcasts of antiques events and workshops, topical live video chats, Broadcast interactive subject-specific channels, the ability to lead - and participate in - programs and events, extensive user-generated content, and dynamic newsletters based on content preferences.
Additional site features include a business directory, blogs, classified listings, photo albums, and searchable archives, where members can find information and valuable content from previously aired events, programs, and workshops.
iAntique.com is courting a demographic not usually associated with the antiques world -- young collectors and entrepreneurs. Younger collectible shoppers are becoming a more common site in the antiques business; many of them are using antiques as design elements in their apartments and first homes. As the younger generation is already comfortable with online activities; iAntique.com provides them the path to connect through its young collector's channel and regularly scheduled, moderated chats.
According to Dan Briddle, CEO of iAntique.com, "We know the antiques business has been through several years of shifting enthusiasm. In this tough economy, people are searching for better value for their money, and antiques and collectibles are more desirable than other items purchased in this disposable-product era".
"Antique stores and malls can take their business outside of their four walls; get involved in social media, and learn how to use Internet Broadcast technology to promote their business and generate new enthusiasm amongst their dealers and customers."
During its launch phase, iAntique.com is offering free charter memberships to consumers and businesses. A business kit is available for any for-profit antique entity that is interested in building excitement and growing their business through iAntique.com social media network.
For more information, please contact:
Dan Briddle, CEO
dan(at)iAntique(dot)com
iAntique.com
###