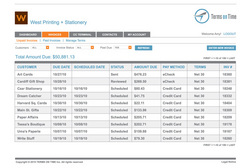 "I really appreciate the ease and flexibility that Terms on Time offers. I really wish all of our vendors would switch to TOT, it would make my job easier and more Eco-friendly!" Jenn Hatch, Union Street Papery
San Diego, CA (PRWEB) October 27, 2010
West Market, Inc. has launched Terms on Time, a software as a service (SaaS) application designed to help suppliers get paid on time by making it easy for their customers to receive and schedule invoice payments.
"Terms on Time revolutionizes the process of delivering, receiving, and paying invoices, says West Market Founder Brad Foster. "It's designed for manufacturers, distributors and service providers that sell to small to medium sized businesses on a repeated, ongoing basis. Customers using Terms on Time can easily schedule payment with one click. Suppliers using the software can see if their invoices have been received, reviewed and whether payment has been scheduled.
As the owner of a stationery manufacturing company, Foster observed that his customers would often pay late because they lost an invoice or simply didn't have time to sit down, write a check, and put it in the mail. Foster speaks from his own experience as both supplier and customer, "Most small and medium sized business customers have a lot on their plate. Keeping track of invoices and writing checks is a burdensome administrative task that takes time and costs money."
Foster realized that if he had a payment application to make life easier for his customers, he would get paid faster, improving his cash flow, and spend less time following up with customers about late payments. After searching for several months, he couldn't find a good solution and thus, Terms on Time was born.
Electronic Invoice Delivery and Payment Scheduling
With Terms on Time, invoice notifications are delivered to customers via email. The email includes a link to the customer invoice dashboard, where customers can review or print invoices and schedule a payment on the due date with one click. On the scheduled date, payments are automatically processed via eCheck or credit card. The result: Suppliers are paid on time more often, freeing up personnel and capital.
Improved Visibility
Suppliers now have instantly updated information on the status of all open invoices. Customers can also reply to vendors through Terms on Time if there is an error or other issue with invoice or payment. "Instead of flying blind, suppliers can now see if customers have scheduled payments or if they have any issues before the invoice comes due," said Foster. "This enables suppliers to be proactive about resolving errors on invoices or to offer alternative payment plans if a customer is having trouble."
West Market Founder Jim Brady also knows the difficulties faced by small business owners scrambling to keep up with bookkeeping. As the former owners of a ladies clothing boutique in Berkeley, CA, Brady and his wife found themselves spending an hour or more writing checks each weekend, often with children underfoot and household tasks going undone. "Every minute is valuable to a business owner, and time not spent writing checks is time you can use to grow your business or be with your family."
Works With Existing Accounting & Invoicing Software
"Terms on Time is designed to work with any existing invoicing system and requires little alteration to current internal work-flow. Integration is rapid and inexpensive," says Brady, also a former product manager with Intuit's QuickBooks Small Business division. "Our goal is to make Electronic Invoice Presentment and Payment (EIPP) available to all manufacturers and wholesalers without a large capital investment or significant changes to their current operations."
Improved Collection Rates
Released in September, Terms on Time has already increased collection rates and improved cash flow for suppliers using the system. In just a few months, Foster's own company has seen a 20% reduction in late payments from his small and medium sized retail customers.
Foster's customers also really like it. "Terms on Time is a great new program which has allowed me to easily streamline my invoices," says Niki Rubin of South Florida-based stationery boutique Papery & Cakery. "I'm looking forward to having many of my other vendors join this program and continue to make invoicing simplified."
About West Market, Inc. and Terms on Time
Terms on Time's web-based invoice delivery and payment application helps manufacturers, distributors and service providers get paid on time by making customer payment scheduling fast and easy. To learn more, visit http://www.termsontime.com or call 1-877 Terms09 (877-837-6709)
###