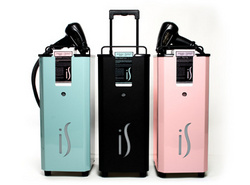 We have so much opportunity for growth as an industry just by listening to the consumers and giving them what they want. That is the message that my team and I would like to deliver so that we can all grow and prosper together
Beverly Hills, CA (PRWEB) October 21, 2010
In today's world of ever-increasing choice, the savvy consumer favors environments that will serve all their tanning needs in one place. Whether the consumer is a devout UV tanner, self-proclaimed sunless tanner (booth or airbrush) or a dabbler in both UV and sunless methods, the one thing they have in common is the desire to achieve a healthy and glowing complexion. A place where they can customize their experience from looking like they spent a day in the sun to sunning themselves for a month in the Bahamas. With so many technologies and products available, this is achievable. To the business owner, that equals greater profits.
This revolution calls for the tanning operator to be transformed into experts in all modalities of skin preparation, tanning and aftercare. This is the message being shared and taught by Infinity Sun.
On Friday, October 22nd at the Nashville Convention Center in room 107 from 4:30 - 6:30 pm the Infinity Sun Team will be sharing their revolutionary ideology with a view to helping tanning salons make this transition and to coach budding entrepreneurs on starting up mobile spray tanning businesses. There will be a special drawing at the event for a FREE Spa Lite, the latest handheld spray tanning system in the Infinity Sun collection. There will also be gift bags available to the first 50 attendees. To enter, visit http://www.infinitysun.com.
The event will be hosted by Infinity Sun Founder and CEO, Veronique Munro, who brings with her many years of business consulting experience to Fortune 500 companies, as well as a deep understanding and passion for the tanning industry.
Also presenting will be Nick D'Anna, former manager and cast member of Sunset Tan. As Business Development Executive specializing in Indoor Tanning for Infinity Sun, Nick brings with him not only his "celebrity status" but 5 years of proven operational success that contributed to the growth of Sunset Tan, and paradoxically key to the evolution of sunless tanning as we know it today. Nick works with salons to guide them on the implementation of in-house and mobile sunless tanning.
Julie Haley, formerly of the high profile skin care brand Sonya Dakar and seasoned Spa Director with a background in skin care, enables her to bring her strong understanding of the implementation of beauty and skin-related services to salons resulting and healthier profits.
"We are so excited to be joining salon owners, many of them our existing customers and thrilled to be given the opportunity of presenting at Smart Tan" states Miss Munro. "We have so much opportunity for growth as an industry just by listening to the consumers and giving them what they want. That is the message that my team and I would like to deliver so that we can all grow and prosper together".
Established in 2005, Infinity Sun has been branded a pioneer in the industry by combining two of the hottest industry segments, sunless tanning and high end skin care, by delivering tanning solutions and beauty treatment elixirs through the most technologically advanced spray tanning systems. Not only does Infinity Sun hail supreme with celebrity clients such as Paris Hilton, Jessica Alba, Audrina Patridge, Adrien Grenier (just to name a few), but Infinity Sun has been featured on the hit TV shows Entourage, Millionaire Matchmaker, Sunset Tan and Dr. 90210.
In addition to their star-studded clientele, Infinity Sun supplies systems and products to and consults for some of the world's most high profile chains and franchises in the tanning, spa and beauty industry including Hollywood Tans, Sunset Tan, Hilton Hotels, Mandalay Bay and many others.
Infinity Sun takes active steps to care for the environment by reducing their carbon footprint annually and is the only Carbon Neutral certified company in the Indoor Tanning Industry.
Infinity Sun is available at upscale salons and spas worldwide. For locations offering Infinity Sun, please call (323) 782-1049. For more information about airbrush tanning or Infinity Sun products and services go to http://www.infinitysun.com.
ABOUT SMART TAN
Smart Tan's trade show is North America's only convention with every major tanning supplier in attendance and the only show with tanning rooms set up right on the trade show floor. Smart Tan's educational conference is the industry's largest, and the entire event takes place in exciting downtown Nashville – with live music, night-life and parties, giving tanning's largest convention a fast-paced pulse worthy of celebrating this great industry. This event is designed to take the tanning community – and its salon leaders – to the next level in the market's evolution: Smart Tan Downtown. To register or for more information ,call Smart Tan at 800-652-3269 (866-795-3755 in Canada) or visit https://smarttan.com/conference.
###