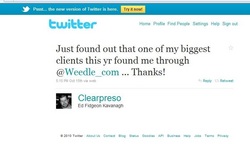 It's great to see so many users connecting with people who need their skill, helping us move towards our goal of providing opportunities for everybody, everywhere
Boston, MA (PRWEB) October 21, 2010
Weedle, The World's Trusted Network of People with Skills, was developed by Weedle's CEO Iain Mac Donald and co-founder Michael Gallagher upon realizing there is currently no large scale, simple way of connecting people with skills to the people who need them. Anybody, anywhere can create a Weedle skill page and showcase their talents and expertise to the world. Creating a Weedle skill page is free, takes just two minutes and users are allowed to create up to six different skill pages to showcase each of their individual skills and talents.
Weedle combines a unique skill search engine with the trusted connections of users' existing social networks. This combination enables anyone, anywhere, to do business with people they can trust. Weedle also increases its users' visibility online by optimizing all Weedle skill pages to rank high in Google, effectively providing free search engine optimization.
Yesterday Weedle saw more users reporting their success in landing a job through Weedle on Twitter; "Just found out that one of my biggest clients this yr found me through @Weedle_com...Thanks!" - Ed Fidgeon Kavanagh, PowerPoint Presentation Designer, via Twitter.
Since its launch, Weedle users have regularly announced their new employment ventures thanks to Weedle by Tweeting, Re-Tweeting etc. "Just got offered a MC gig through Weedle.. Very exciting.. It's such a new site but fab ..LOVES IT!!!! Xxx" – Suzanne Kane, Radio Presenter, via Twitter.
"It's great to see so many users connecting with people who need their skill, helping us move towards our goal of providing opportunities for everybody, everywhere" says Weedle CEO Iain Mac Donald.
Weedle is free to join.
###