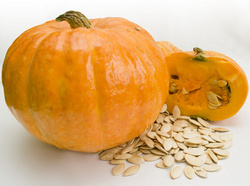 I can eat all types of seeds so why not make a milk from seeds instead of nuts?
(PRWEB) October 26, 2010
Nerissa Oden recently turned an almond milk recipe on its head when she used pumpkin seeds instead of almonds. She tried pumpkin seeds because she has food allergies to milk, soy, and nuts.
Like many Americans Nerissa has also discovered the advantages of avoiding rice and oat milk to reduce
her intake of sugar and gluten. "I can eat all types of seeds so why not make a milk from seeds instead of nuts?" And so she did. She even made a How To video and posted it on YouTube to show others just how fast and easy the process is.
People with food allergies will love this quick and easy homemade milk alternative to dairy and nuts. Seed milk is the perfect milk alternative for people with milk and nut allergies. Halloween is the perfect time for pumpkin seed milk. Children will love helping you make this 10 minute holiday recipe.
Homemade seed milk is healthier than store bought milk alternatives because you control the ingredients. It can be made unsweetened, or with a natural sugar substitute. It is also cost effective as it makes up to FOUR quarts for the same price of two store bought cartons. Use it instead of milk in all of your holiday recipes.
To make pumpkin seed milk you will need:

7 ounces of raw shelled pumpkin seeds
Large bowl with spout
Blender
Mesh strainer or colander
Nylon straining bag
Storage containers with lids
Filtered water 8-16 cups
Soak pumpkin seeds in filtered water overnight. In the morning, wash and rinse the seeds thoroughly. Put seeds to blender with 2 cups of filtered water. Blend until no visible seeds seen - about 30 seconds or minute depending on your blender. Over large bowl pour half blender contents into nylon bag. Add filtered water to bag. Twist bag top and gently squeeze. Add remaining contents from blender. Squeeze bag. Add filtered water until you have desired thickness of milk. You can also add 1-2 tablespoons of vanilla extract and any sweetener or sugar
substitute to taste. Some people also add salt. Makes 2-4 quarts.
Refrigerate.
###