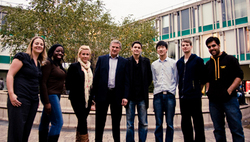 (PRWeb UK) October 22, 2010
The founder and chairman of TalkTalk Technology Neil McArthur has helped launch a new initiative at the University of Essex which aims to inspire students to get ahead in business.
The University of Essex graduate was the guest speaker at the first of a series of enterprise workshops organised as part of the Big e campaign, a major new scheme developed to ensure students have the right skills to be a success in the workplace.
The weekly workshops will give students the opportunity to hear from inspiring entrepreneurs, cultivate new business ideas and develop the skills employers will really value.
TalkTalk Technology, the company Mr McArthur helped to create, is part of TalkTalk Group one of the UK's biggest telecommunications companies which pioneered free broadband and achieved revenues of more than £1.7 billion to March 2010. It has over 4.1 million broadband customers and 1.1 million voice-only and narrowband customers.
Mr McArthur said: 'I am absolutely delighted to come back to the University of Essex to speak to students.
'My three years at Essex were amongst the most influential on my life and I am thrilled to have this opportunity to help inspire and support the next generation of entrepreneurs.
'I hope I can play a part in showing our young people how to turn their business ideas into reality and make a positive impact on the world.'
Director of Research & Enterprise Office Dr Janice Pittis said: 'It is wonderful for our students to have the opportunity to hear from such a high-profile and successful business leader.
'We are very grateful to Neil for the enthusiasm he has shown for sharing his expertise, experiences and insights with our students.'
The Big e campaign is a University-wide initiative involving Careers, the Research and Enterprise Office, Learning and Development and the Students' Union.
Pro-Vice-Chancellor for Learning and Teaching Professor Andy Downton said: 'The Big e campaign is all about enriching the student experience and helping students get as much as possible from studying at Essex.
'We want students to take advantage of the opportunities being offered during their time at Essex to ensure they are in a position to pursue the career they want to after they complete their degree.'
Other events being planned include the Essex Apprentice, further enterprise workshops, careers fairs, the Essex Boot Camp and the Big e Awards. Other activities will be unveiled in the months ahead.
For more information see http://www.essex.ac.uk/bige
Ends
For further information please contact the University of Essex Communications Office on 01206 873529.
###