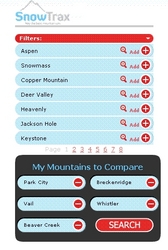 We're excited to introduce TinyTrax because it alleviates the frustration that affiliates face when losing traffic to partner sites that don't convert
Bethesda, MD (Vocus) October 22, 2010
SnowTrax.com has officially launched its affiliate program, lending its innovative multi-destination search technology to ski, snowboard, and travel partners web-wide. SnowTrax (http://www.SnowTrax.com) President Joe Bous plans to bring the powerful search engine to ski and snowboard audiences across various platforms, and has pioneered a new widget model to attract partners: TinyTrax. In addition to leveraging traditional affiliate link partnerships, this advanced travel widget allows users to browse, filter, and search more than 5 ski destinations at once, all while remaining on the affiliate's site.
TinyTrax is an innovative approach to affiliate-supplier partnerships, offering affiliates a search tool that retains visitors until they are prepared to book, greatly increasing their conversion rate. Beyond the obvious benefits to the affiliate, TinyTrax provides partner site visitors added-value, allowing users to view real time vacation packages at more than 5 ski resort destinations at the simultaneously.
"We're excited to introduce TinyTrax because it alleviates the frustration that affiliates face when losing traffic to partner sites that don't convert," says Joe Bous. "We're hoping that affiliates will see this as a no-brainer: an easy way to monetize their sites, provide their users a great product, and retain users until they're ready to book."
TinyTrax is now available, and SnowTrax encourages potential partners to test the product at http://www.snowtrax.com/TinyTrax
About SnowTrax:
SnowTrax is an innovative online ski travel search and booking engine that points travelers to the best travel dates and destinations this ski season. SnowTrax partners with ski resorts, hotels, and airfare providers across North America to offer travelers competitive ski packages. SnowTrax empowers travelers by giving them detailed mountain and ski area information, real-time pricing, and intuitive tools that help users compare packages across 5+ resorts simultaneously. SnowTrax is based out of Bethesda, MD.
SnowTrax has pioneered the application of advanced search technology in the online ski sphere. Key features include:
>Multi-destination searches: compare packages at 5+ ski resorts simultaneously
>Vacation optimization: view cheapest flight vs. flight that gives you the most on-mountain time
>Precise location of lodging: organize hotel results by the exact distance from lifts and shuttle stops
>Insider insight: find your ski resort match using our extensive filter system, based on up-to-date statistics and expert opinion
>Real-time pricing: SnowTrax displays to-the-minute rates; no price quotes required
###