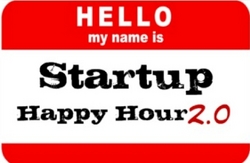 We've decided to take the event to the next level – Startup Happy Hour 2.0. We're making it an educational forum in addition to a networking opportunity."
Dallas, TX (Vocus) October 22, 2010
Big in Japan and Architel announced today that speakers for the first Startup Happy Hour 2.0, to be held Wednesday, Oct. 27 at Campbell Centre, will include Blake Burris of CoHabitat; Gabriella Draney of Tech Wildcatters; Danica Mathes of Ignite Dallas; and Joey Pomerenke of Startup Weekend. More than 250 entrepreneurs, aspiring entrepreneurs and others interested in the Dallas/Fort Worth startup scene have RSVPed for the event.
"Since we began Dallas Startup Happy Hour more than two years ago, over 2,500 people have joined us for networking, fellowship and to promote entrepreneurship in North Texas," said Alexander Muse, co-founder of Big in Japan. "Now, we've decided to take the event to the next level – Startup Happy Hour 2.0. We're making it an educational forum in addition to a networking opportunity."
The first three Startup Happy Hour 2.0 events will be held Oct. 27, Nov. 24 and Dec. 22. The events will run from 5 p.m. to 8 p.m., with speakers beginning at 6 p.m. The location is 8350 N. Central Expressway, Suite 250,in the north tower of Campbell Centre.
Speakers for the inaugural event include:
Blake Burris, CoHabitat
Blake is the founder of CoHabitat, a startup community and hacker co-working space that's become a hub for startup entrepreneurs, developers, and creatives. Blake also founded Dynamo Labs, where he and his team develop solutions for the rapidly changing clean energy marketplace. Dynamo Labs was the first recipient of fbFund, a grant fund operated by the Founders Fund, Accel Partners, and Facebook. Blake has long been involved in the Dallas startup scene, having helped organize the first BarCamp Dallas in 2005.
Gabriella Draney, Tech Wildcatters
Gabriella is co-founder and managing partner of Tech Wildcatters, a Dallas-based seed accelerator. Previously, she was with HP Growth Partners, an early stage venture fund in Dallas. She co-founded an aircraft scheduling software company in 1998 that ended in a profitable exit. Gabriella went on to work for Morgan Stanley in private wealth management. True to her entrepreneurial roots, she left to follow her passion for nutrition by opening a specialty foods retail store, while simultaneously consulting with numerous Dallas-based startups on strategic planning and finance.
Danica Mathes, Ignite Dallas
Danica is an entertainment, intellectual property and new media attorney with Bell Nunnally & Martin LLP. She represents and counsels clients with respect to traditional trademark, copyright and other intellectual property protection and exploitation matters, preparation, review and negotiation of contracts, and formation of appropriate business entities. Danica was an adjunct professor of entertainment law at Washington University School of Law for five years, and she has been listed in The Best Lawyers in America since 2007. She is one of the inaugural organizers of Ignite Dallas and is actively involved with the Dallas International Film Festival.
Joey Pomerenke, Startup Weekend
Joey is an entrepreneur, startup enthusiast and travel junkie. He currently manages events for Startup Weekend, the Seattle-based non-profit organization that has become one of the leading catalysts for startup creation and entrepreneurship education in startup ecosystems around the world. Startup Weekend is currently represented in over 100 cities in more than 25 countries.
To RSVP for an event and/or join the discussion about Startup Happy Hour 2.0, visit http://www.meetup.com/Dallas-Startup-Happy-Hour.
About Big in Japan
Big in Japan Inc. is the leader in barcode-powered shopping by mobile consumers, with more than 6.5 million users generating 50 million product scans per month through the company's ShopSavvy® application and the applications of third-party licensees such as CNET and PriceGrabber. Big in Japan's UPC/GPS mobile advertising framework reaches consumers at the point of highest purchase intent, sharing promotions, coupons and other relevant information about scanned products. Big in Japan maintains one of the largest price comparison engines for local and online retailers, with links to the pricing and inventory systems of 20,000+ retailers worldwide. Big in Japan is funded and incubated by Architel, a Dallas-based managed services provider. For more information, visit http://www.biggu.com.
###