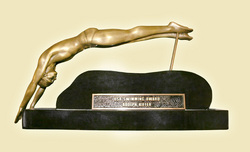 We were losing more lives to drowning than enemy bullets. These men were not prepared. I couldn't sleep at night.
Zion, IL (Vocus) October 22, 2010
In late September, legendary backstroker and lifetime safety activist Adolph Kiefer received the USA Swimming Award. Established in 1981 by USA Swimming, this prestigious award recognizes exceptional contributions of an individual or organization to the sport of swimming. Although best-known for his celebrity status as an Olympic gold medalist and world record setting backstroker, Kiefer's other impressive contributions to swimming were inspired by an internal passion to promote water safety, health and fitness for all.
Some of Kiefer's accomplishments include initiating significant improvements to the Navy's swim instruction program during WWII, introducing PVC material in the production of rescue equipment in the United States, and developing numerous swim and safety products including the first non-turbulent racing lane and nylon swim suit.
While serving in the Navy during WWII, Adolph Kiefer undertook a huge initiative to improve the Navy's swimming instruction program. According to Kiefer, "We were losing more lives to drowning than enemy bullets. These men were not prepared. I couldn't sleep at night." While supervising the training of more than 13,000 naval swimming instructors, Kiefer authored a handbook on a survival swimming technique called the Victory backstroke. His efforts dramatically reduced the drowning rate of sailors.
When Kiefer enlisted in the Service, the US Navy was using canvas covered cork and kapok floatation devices. During the inspection of a captured German war ship, Kiefer discovered that the Germans had superior flotation devices made out of a "strange cellular substance." Kiefer learned that this material had been invented by Sweden's Dr. Nobel and was called PVC. Determined to equip the US Navy with the best safety equipment available, Kiefer convinced American authorities to copy the invention claiming it fell under the "spoils of war." After a few months of trial and error, PVC production began in the United States. The Navy was soon outfitted with PVC foam ring buoys and life vests. PVC is still being used today in many lifesaving devices such as rescue tubes, swim belts, swim collars.
At the end of WWII, a train-ride conversation between Robert Kiphuth, the famous Yale University Swimming Coach, and young Navy Lieutenant Adolph Kiefer proved to become another historical encounter. Kiphuth was looking for a way to take the waves out of competitive swimming pools. Kiphuth challenged Kiefer to come up with a solution. Kiefer's response to his 1936 Olympic Team Coach was, "Give me one year and I'll have it figured out." Eight months later Kiefer returned to Kiphuth with the first-ever wave-dampening racing lane. He also announced that he was starting his own aquatics company. Adolph Kiefer and Associates was to produce the new racing lane along with a host of other products destined to revolutionize the swimming industry.
As the official aquatics supplier to the 1948 U.S. Olympic Swim Team, Adolph Kiefer and Associates introduced the first nylon swimsuit as a lightweight alternative to wool and cotton suits and a cost alternative to the silk suits of the time. Since then, the Illinois-based swim company has provided the swim community with many innovative aquatic performance and safety products including the original Wave Eater racing lane, fully customizable starting platforms, lifeguard equipment and apparel, and a complete line of competitive swimwear and swim goggles.
Today, Adolph Kiefer remains an active player in the swimming industry. At 92 years of age, Kiefer goes to work everyday to think up new products and strategies for teaching children to swim and advocating water safety. He also serves on the National Sanitation Foundation, promoting clean air and water. When asked how he feels about his many accomplishments, Kiefer replied, "I never look back. Progress is about looking forward. That is how I live my life."
###