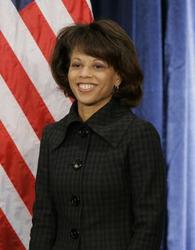 We are pleased that Ms. Barnes will be addressing our attendees
Philadelphia, PA (Vocus) October 21, 2010
The organizers of the Fourth National Conference on Healthcare Disparities (http://www.buildinghealthycommunities2010.com), today, announced that Melody C. Barnes, Director of the Domestic Policy Council for the Obama Administration, will present a keynote address at the conference on November 11, 2010, during an 11:30 a.m. to 1 p.m. luncheon.
The Domestic Policy Council, which is part of the Office of White House Policy, has been called the principal forum used by the President of the United States for considering domestic policy matters, other than economic issues.
Ms. Barnes, whose appointment was announced by the president shortly after his election victory in November 2008, had served, previously, as Executive Vice President for Policy at the Center for American Progress.
She also served, from 1995 to 2003, as chief counsel to Senator Edward M. Kennedy on the Senate Judiciary Committeee and, prior to that, as Director of Legislative Affairs for the Equal Employment Opportunity Commission. Barnes also served as assistant counsel to the United States House Judiciary Subcommittee on the Constitution, Civil Rights and Civil Liberties, where she played a role in the Congressional passage of the Voting Rights Improvement Act of 1992.
"We are pleased that Ms. Barnes will be addressing our attendees," said National Disparities Conference organizer Dr. David E. Rivers. "We believe the issue of eliminating healthcare-related disparities should certainly be considered a critical policy-level agenda item for our government. Having Ms. Barnes address us, clearly sends such a message."
About the Fourth National Conference on Healthcare Disparities
The Fourth National Conference on Health Disparities has been organized in conjuction with the Congressional Black Caucus Health Braintrust and the Tri-Caucus Health Taskforce chairs.
The event is being supported by the Medical University of South Carolina, Morehouse School of Medicine, Lincoln University, Cheyney University, University of Pennsylvania School of Nursing, Drexel University of Public Health, Temple University, Lilly, Health Partners and the Congressional Black Caucus Foundation, Inc.
Co-Supporters include: PhRMA, the Alliance for Digital Equality, the U.S. Department of Energy, Fox Chase Cancer Center and AmeriHealth Mercy Family of Companies.
###