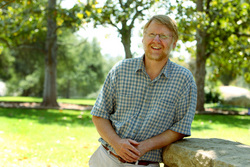 Bright Shoots of Everlastingness: Essays on Faith and the American Wild
Newberg, OR (Vocus) October 22, 2010
Paul Willis, a poet whose works have appeared in "Best American Poetry" and "Best Spiritual Writing" publications, will present a public reading at George Fox University at 7:30 p.m. Thursday, Nov. 4, in Room 105 of the university's Hoover Academic Building. There is no charge to attend.
Willis, a professor of English at Westmont College since 1988 and a former instructor at Whitworth and Houghton colleges, will read selections from his body of work, which includes two books of poetry, "Rosing from the Dead" (WordFarm, 2009) and "Visiting Home" (Pecan Grove Press, 2008).
Willis, who grew up in Corvallis, Ore., is also the author of one book of creative nonfiction, "Bright Shoots of Everlastingness: Essays on Faith and the American Wild" (WordFarm, 2005). And this fall, WordFarm will publish his four-part eco-fantasy novel, "The Alpine Tales," set in Sisters, Ore.
The author's subjects range from the domestic – i.e., the challenges associated with raising a family – to the environmental. "Paul's work deals with the complexities of life and reveals his love of life – his devotion to family, community and the outdoors," said George Fox Professor of English Bill Jolliff. "He approaches his topics with a lot of kindness and writes not just from a Christian perspective but as an observer of the human condition in general."
Willis' poems and essays have appeared in "The Best American Poetry 1996" (Scribner's), "The Best Spiritual Writing 1999" (Harper, San Francisco), "The Best American Spiritual Writing 2004" (Houghton Mifflin), "The Best Christian Writing 2006" (Jossey Bass), "Verse Daily" and "The Writer's Almanac."
"We feel very fortunate to be able to share Paul with our campus and the broader community," Jolliff said. "The list of writers working so successfully in so many different literary genres is a short one."
Prior to his teaching career, Willis worked as a mountain guide in the Cascades and Sierra Nevada, and earned two graduate degrees in English at Washington State University. He also earned a biblical studies degree from Wheaton College in Illinois.
He currently lives in Santa Barbara, Calif., where his wife, Sharon, is employed as a registered nurse. They have two grown children.
Willis is visiting as a guest of the university's English department. George Fox's English major is one of 42 undergraduate degrees offered on the university's residential campus in Newberg, Ore.
George Fox University is ranked by Forbes as the top Christian college in the Pacific Northwest and among the top three http//Christian colleges in the country. George Fox is the only Christian university in the Pacific Northwest classified by U.S. News & World Report as a first tier national university. More than 3,400 students attend classes on the university's campus in Newberg, Ore., and at teaching centers in Portland, Salem, and Redmond, Ore., and Boise, Idaho. George Fox offers bachelor's degrees in more than 40 majors, degree-completion programs for working adults, five seminary degrees, and 11 master's and doctoral degrees.
Contact:
Bill Jolliff
Professor of English
503-554-2604
###