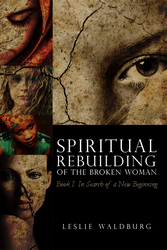 Jacksonville, FL (Vocus) October 22, 2010
Spiritual Rebuilding of the Broken Woman, a new book by Leslie Waldburg, has been released by RoseDog Books.
Reflecting on women's lives, including the life of her own mother, the author tells how women are molded by society to believe they must seek out a mate, marry, have children, and care for their families. They are taught to be nurturers and providers, yet they sometimes become victims of domestic violence, or become emotionally broken after experiencing pain and loss through death, divorce, or poverty. They feel isolated and lonely, and they long to reestablish trust and faith—to find a new beginning. Having seen and experienced firsthand the devastation of hardship, the author believes if you are a woman who desires a new start in life, you must place your trust in God and look within to find strength to overcome your struggles. This is your opportunity to start anew!
Leslie Waldburg is a native of Illinois and currently resides in Florida. She holds a degree in management and is now pursuing a master's degree in business administration. She is the founder and Senior Pastor of Rebuilding Spirits Worldwide Ministries, Inc.; an early childhood education teacher; and the owner and operator of a childcare center. Waldburg is single and has three children. She enjoys reading and writing. The author offers conferences, on-line, email, phone, in person, group or individual. She can be contacted at rebuildingwomen(at)gmail(dot)com.
Spiritual Rebuilding of the Broken Woman is a 32-page paperback with a retail price of $8.00. The ISBN is 978-1-4349-0391-4. It was published by RoseDog Books of Pittsburgh, Pennsylvania. For more information or to request a review copy, please visit our virtual pressroom at http://www.rosedog.com/pressroom or our online bookstore at http://www.rosedogbookstore.com.
###