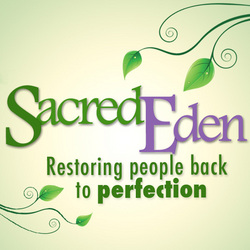 The time has come for a new age of health, healing and wellness
Miami, FL (PRWEB) October 23, 2010
Sacred Eden, a new startup in the field of health and alternative healing, has the ambitious goal of restoring humanity's health back to perfection and healing 3 million people by 2015.
"The time has come for a new age of health, healing and wellness," says Benjamin Ravaru, co-founder of Sacred Eden. "Conventional emphasis on disease has cured so many abominations such as flu, polio, chicken pox, etc. Unfortunately, more than ever, we have the highest obesity, cancer, diabetes and heart disease rates in history… It's time for a new approach to health and healing."
Reaching a 'eureka' moment in 2009, Ravaru over-hauled his health habits and turned to more holistic, basic ways of achieving health and wellness. "Sacred Eden is about bringing healing products from Mother Nature to people," he says.
This ambitious little company was established in early 2010, and already it has hundreds of happy customers and thousands of Facebook, Twitter and YouTube followers. What keeps them hooked? High quality articles and videos that share well-researched information on plants, herbs, and minerals so that every consumer can make intelligent choices on his use of supplements.
"We believe information should be readily accessible," continues Ravaru. "That's why we make sure to publish the latest in health and alternative healing on our blog and magazine."
Containing news on weight loss, detoxification, and general nutrition, anyone can browse through the blog. Visitors to the site can also access online back issues of the magazine beginning April 2010, and get a free online health consultation by email.
Ravaru encourages everyone to drop by and see what Sacred Eden has to offer. "You will feel you understand nature better, you'll feel healthier, you'll sleep better…the benefits are endless," he says of leading a life centered on wellness.
Who knows—you may just be one of the lucky 3 million healed.
Visit the Sacred Eden blog at http://www.SacredEdenBlog.com to view the latest articles and video.
# # #