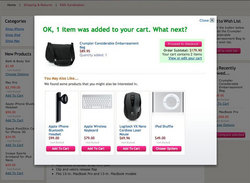 This new release includes features which can significantly increase the average order value for our merchants.
Austin, TX (PRWEB) October 21, 2010
BigCommerce, a leading provider of hosted shopping cart software, today announced the latest release of its software that enables small and mid-sized merchants to significantly increase their average order value using built-in tools designed to facilitate upselling and impulse buying.
"There are only a handful of metrics that can be measured and improved to increase the profitability of your e-commerce business, and average order value is one of the most critical. This new release includes features such as InstantAdd, our new suggestive cart upsell system and free shipping coupon codes, both of which can significantly increase the average order value for our merchants. Best of all, these new features can be configured in just a few clicks" said Mitchell Harper, co-founder and co-CEO of BigCommerce.
Today's new release includes over 100 new features and improvements. Notable features include:

Free shipping Coupon Codes - Merchants can now choose to offer free or discounted shipping when creating a coupon code. More than any other feature, free shipping coupons can increase both average order value and conversion rates.
InstantAdd™ Suggestive Cart Upsell System - Instead of taking shoppers to their cart, InstantAdd pops up a window with the contents of their cart and focuses on upselling and cross selling related products before the shopper reaches the checkout process.
Category Fly Out Menus - Displays categories and subcategories instantly in a fly out navigation menu, meaning fewer clicks to find the products shoppers are looking for.
Limit Coupon Use by Location/Shipping Method - Use of coupons can be restricted based on the shoppers shipping location and/or shipping method, allowing complete control over coupon distribution, usage and termination for promotions.
Free Shipping Eligibility Message - BigCommerce merchants can easily setup a discount rule which will entice customers to increase their average order value to qualify for free shipping. A message such as "Spend just $34 more to quality for free shipping!" can be customized and shown in various places during the shopping experience.
Archive Orders - Instead of deleting orders, they are now archived and be restored with just one click if required.
"Our merchants work hard to promote their online stores and need to make sure their customers spend the maximum amount possible in every transaction. These powerful and innovative new features make it extremely easy for them to do just that" added Eddie Machaalani, co-founder and co-CEO of BigCommerce.
Impressively, all features in this release came directly from ideas and votes submitted by existing BigCommerce clients. "We focus on transparency and really champion the voice of our clients. They suggested and voted up the features in this release using our digg-like community voting system and the feedback so far has been amazing" added Harper.
Learn more about this release and read feedback from existing clients on the BigCommerce blog.
Easy to Use Shopping Cart Software
With packages starting at just $24.95 per month, BigCommerce gives tomorrow's e-commerce leaders an integrated set of advanced capabilities that allow them to quickly and affordably grow their business online.
"The old days of paying more for enterprise features are dead. The Internet, especially SaaS, has leveled the playing field and we want all BigCommerce merchants to have access to enterprise-level features that make them more successful, regardless of their industry, budget or experience" added Machaalani.
ABOUT BIGCOMMERCE
BigCommerce, ranked #633 on the Inc 5,000 list of fastest growing companies for 2010, is the fastest-growing shopping cart software in the world with over 8,000 clients since launching just 12 months ago. A unique combination of enterprise-level features (including multi-channel retailing, automated email marketing and inventory control) and unmatched ease-of-use make BigCommerce the preferred shopping cart software for both new and established businesses looking to outsell their competitors, reach their financial goals faster and automate as many business processes as possible. BigCommerce has been featured in Forbes, TechCrunch, Inc Magazine and Internet Retailer. For more information or to try BigCommerce for free, go to http://www.bigcommerce.com.
###