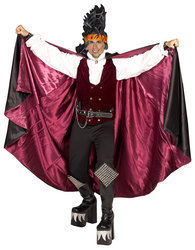 We wanted to offer our customers and fans something distinctively interactive
New Berlin, WI (PRWEB) October 25, 2010
BuyCostumes.com, the world's largest internet retailer of Costumes and Halloween products, today announced the launch of its iPhone app - iCostumes. The free app is available at the Apple App store and it allows users to place their face or their friends' faces in hundreds of unique costumes. To make the application more fun and outrageous, users can "bling" out the selected costume by adding accessories to create some of the most off-the-wall creations ever seen!
"We wanted to offer our customers and fans something distinctively interactive" explained Jalem Getz, CEO. "With iCostumes, we believe we've done just that. It's fun, and it actually works, it doesn't look like cut and paste, you could fool just about anyone."
Utilizing proprietary "morphing technology," users can place their face or the face of a friend or public figure in any one of 200+ BuyCostumes.com costume combinations. From there, users can save their creation to their photo album or share with friends via Facebook, Twitter, email and MMS. All of which are full integrated with the iCostumes app.
The age old question of whether to be a hip-hop pirate or a franken-mermaid for Halloween can now be answered in a matter of minutes. Not sure if you've got the right eyes to pull off a mariachi vampire? Uncertain if you have the right expression to hold your own as a punk-rock nerd? iCostumes can help!
Make a Halloween costume recommendation for your friends by dressing them as a zombie French maid and sending it to them through Facebook or Twitter. Show off your ageless sense of style in a leisure suit and disco-fro. If you're feeling particularly daring, stick your boss's mug in the ever-fashionable lime-green leisure suit and let the laughs begin. Still not entertained? Shake things up and bling it out by making it a hip-hop leisure suit.
Thanks to iCostumes, this Halloween doesn't have to be about one costume, or even two, it can be about hundreds. The free app is compatible with the iPhone, iPod Touch and the iPad. All products needed to create the iCostumes combinations are available for sale on BuyCostumes.com
Founded in 1999 as an Internet specialty retailer, BUYSEASONS' flagship brand, BuyCostumes.com, is the leading online-only retailer of costumes and costume accessories. BUYSEASONS also owns and operates the Celebrate Express family of websites; CelebrateExpress.com, BirthdayExpress.com, 1stWishes.com, and CostumeExpress.com. Celebrate Express offers one of the largest assortments of kid's costumes and birthday party supplies at any single location - online or offline. In addition, BUYSEASONS operates a private-label drop ship program for other Internet retail partners.
# # #