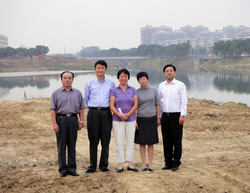 Atlanta, GA (PRWEB) October 22, 2010
At the same time, the city government voted to provide full governing and financial support of the RSCCG development. Zhang Wei, Vice Mayor of Zhangjiagang, was appointed by the government to provide all due support.
REES Star Continuing Care Group (RSCCG) also signed a joint venture agreement with the Aoyang Group in the Zhangjiagang district, to work with one another to develop the retirement community. The AoYang Group owns multi-billion dollars worth of assets in Textile, Chemical Fiber, Shipping and Transportation, Medical, Real Estate, Software and Entertainment, etc. for more than 10 larger entities. The October 8th agreement was signed by Dr. Frank W. Rees, chairman of RSCCG, Yong Pan, executive vice chairman of RSCCG, and Xueru Shen, chief executive officer of Aoyong Group.
Li Ke Chen, Director of Zhangjiagang Economic Development Zone, is the high official that brought the parties together to form the business team and agreement. In her role to recruit developers into the district, she was involved in $1.3 billion worth of contracts that were executed on October 8, 2010.
The Dallas office of Allegiance Capital and the Shanghai office of Weil, Gotshal & Manges advised REES Star Continuing Care Group in the creation of a successful team in this $40 million transaction.
###