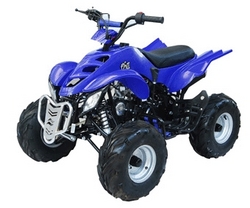 Give the gift your child will remember the rest of their lives starting from $599 Delivered.
Madison, WI (PRWEB) October 23, 2010
Looking for the Perfect Christmas Gift for your Child, Husband, Brother, Uncle, Aunt, Sister, Mother or Grandmother, look no further. Q9PowerSports.com has their entire inventory of Cheap Priced ATVs on sale and marked up to 50% off M.S.R.P retail price. Plus receive Free Shipping anywhere in the USA on all orders until the end of the year.
From Small Beginners Kids ATVs up to 250cc Sports Quads and Utility ATVs.
When the kids see how much fun mom and dad or the older siblings are having on the full sized four wheelers, they naturally want to get in on the act. But as a parent, you know that it takes a lot of skill and strength to handle an ATV in an off road situation. So as you do with many other adult "toys", the first step is to get a four-wheeler for the youngster in your life that gives him the fun of "going off road" without the dangers.
There are a lot of designs and models of ATVs for the younger set that can fill this need nicely. If you are an four wheeling family, you are in a good position to evaluate if these toys are close enough simulations to give your child a satisfactory substitute for an adult vehicle but still be a safe miniature version of the full sized ATV that child will someday enjoy just as much as you do.
There are many ATVs on the market for kids and perhaps you might start them out on a relatively in-expensive model such as the 110cc Small Kids ATV, which is a Chinese built cool little sassy ATV. They are imported to the United States by Q9PowerSports.com. These little Four-stroke 110cc mini-series ATVs are fine for the kids. You will also be happy to note that they have quiet mufflers to keep the sound down low and have many safety features built in.
Should you buy an ATV for Christmas for the kids? The Small 110cc Kids ATV costs $599 so it is relatively inexpensive as small ATVs go. They come in blue, red, black, green camo, pink camo, yellow camo, mossy oak, red maple leaf and purple camo and they are perfect for ages 5+.
The new Dozer 125cc Youth Utility ATV sits a little wider; it has less of a chance to tip over and therefore parents like it and the kids say they love it. So it is fast enough to get kids excited about ATVs but not so high-performance to be unsafe. Perfect for ages 7&+. So should you buy an ATV for Christmas for the kids? Consider this in Christmas 2010.
###