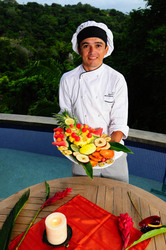 "Chef Over's menu selection and food presentation is both delicious and a work of art".
Manuel Antonio, Costa Rica (PRWEB) October 22, 2010
Villa Perezoso, a privately owned luxury vacation villa nestled amidst the unparalleled natural beauty of Manuel Antonio Park along Costa Rica's Pacific coast, is excited to announce its STAY COOK LEARN cooking program to its guests.
Offered with a one week or more stay, Villa Perezoso's Chef Over Arroyo will host two 3 hour "Cooking Costa Rica Style" cooking demonstrations where guests will have an opportunity to learn how to prepare and present some of Costa Rica's most delectable dishes utilizing local, fresh and organic ingredients. Guests will learn how to create dishes such as mahi mahi with crusted coconut, mango avocado salad, stuffed calamari, arroz con pollo, ceviche, tres leche cake, casado and more.
"Chef Over's menu selection and food presentation is both delicious and a work of art. His cooking skills are only surpassed by his personality. Every course of every meal is a memorable experience. A perfect idea that marries vacation, food and learning," said Susie Biehler, of Susie Biehler and Co., a past guest and San Francisco restaurant food consultant.
Villa Perezoso, designed as a luxury vacation rental and set amidst the tropical rainforest and beaches of Manuel Antonio, provides its guests with the backdrop, design, service and amenities of a luxury 5 star resort. Villa Perezoso, is now accepting bookings for 2011, and can accommodate groups up to 12. With a total of five bedrooms, two kitchens and 6,000 square feet of genteel living space, Villa Perezoso is perfect for families, special occasion gatherings, weddings and as a romantic couples retreat. More information can be found at http://www.villaperezoso.com, info(at)villaperezoso(dot)com or 1-866-460-2591 (toll free).
###