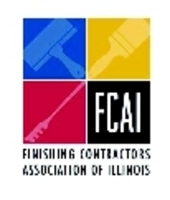 We received a total of 47 grant requests totaling $322,000 this year — many more than we were able to fund. It was a challenge to choose between the many wonderful programs represented by these applications
Peoria, IL (Vocus) October 22, 2010
The Finishing Contractors Association of Illinois (FCAI), Central Chapter, today announced the recipients of the FCAI Community Care Project grants. This program assists area social service agencies and non-profit organizations by providing monetary grants to help fund building upgrades and restoration, maintenance projects, equipment replacement or educational needs. The 15 grant recipients were chosen from a field of 47 applications representing $322,000 in unmet needs. Grant amounts range from $500 to $2,000.
Grant award checks will presented to the recipient organizations (listed below) during the FCAI's annual grant award dinner at Weaver Ridge Club House in Peoria on October 26, 2010. FCAI members will be present, as will representatives from the State FCAI office in Aurora. A representative from each recipient organization will gave a short description of their mission and an explanation of how they would use the grant money. (While the individual amounts of the grants are being not disclosed, this year's Community Care Project grants range from $500 to $2,000, and total $20,000.)
Grant Recipients:
Alzheimer's Association
Amvets Post #64
Baby Fold
Center for Prevention of Abuse
Crittenton Centers
Habitat for Humanity – Greater Peoria Area
Heart of Illinois Harvest
Look! It's my book!
Make-A-Wish Foundation of Illinois
Minier Police Explorers Honor Guard
Peoria Area Blind People's Center
Peoria Rescue Ministries
Recycling Furniture for Families
South Side Mission
YWCA McLean County
The Community Care Project
Each year, FCAI donates money collected from its contractor membership to community groups for restoration, building projects, equipment replacement, and educational needs, through the Community Care Project. Started in 2008, the Community Care Project helps the FCAI identify needs in the community and award grants to the social service agencies and non-profit organizations best serving those needs. Letters and press releases announcing the grant awards program went out in March 2010. The deadline for grant requests was May 31, 2010. The grant requests were open to non-profit organizations from Peoria, Tazewell, Woodford, and McLean counties.
"We received a total of 47 grant requests totaling $322,000 this year — many more than we were able to fund. It was a challenge to choose between the many wonderful programs represented by these applications," stated Kurt Hand, FCAI Central Chapter President and President of Vogue Painting and Decorating in Chillicothe. "We feel that the fifteen organizations we choose represent outstanding missions. We hope that these grants will help them expand services and better support their constituencies. Our communities have been very generous to us, and this is our way of giving back to the communities who support us."
About FCAI
The Finishing Contractors Association of Illinois represents approximately 400 union painting contractors doing business in 29 counties in central and northern Illinois. These firms vary in size from the very small — with owners who 'work with the tools' along with a few tradespersons — to larger companies with several employees working on numerous construction projects.
FCAI is dedicated to serving the industry through negotiating and implementing a collective bargaining agreement, and promoting safety, professional development and training, resulting in a better value to its members and the consumer. The Association serves its members through programs, services and products designed to help them run successful businesses and offers free access to PDCA (Painting and Decorating Contractors of America) Standards and MPI (Master Painters Institute) Specs. Members are also provided with weekly invitations to bid on current local projects.
# # #