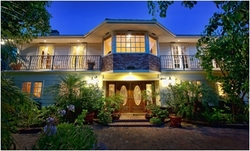 Bridges to Recovery has the resources for nourishing your return to health.
Pacific Palisades, CA (PRWEB) October 26, 2010
Bridges to Recovery is a premier residential treatment program designed for people suffering from psychiatric disorders who are seeking an alternative to a hospital environment for their care. Located in Pacific Palisades, CA, Bridges to Recovery treats patients suffering with depression, anxiety, bipolar, trauma, life adjustment, OCD, and more.  At Bridges to Recovery, treatments focus on treating each patient uniquely at the physical, mental, emotional and spiritual levels.  
The Bridges to Recovery interdisciplinary treatment staff is highly qualified, dedicated and focused on treating the whole person. The Bridges to Recovery treatment team recognizes that many individuals experience problems with substance abuse or dependence in addition to mental health issues. Unlike programs that emphasize treatment of chemical dependency, the focus of Bridges to Recovery is to address the primary underlying issues, while providing therapeutic and psychosocial support for healing and personal growth. Treatment is holistic, individualized, and nurturing. Integrated treatment programs prepare each patient to move forward to a new, productive phase of their life. The Bridges to Recovery commitment assists patients in developing carefully constructed "road maps" for healthier and more productive lives. Patients leave the program with a solid sense of their next goals and the resources to achieve them. 
"Bridges to Recovery facilitates healing by providing each person with a unique treatment plan that meets his/her specific needs and that diligently investigates resources for continued, competent, and appropriate clinical care after the individual leaves our care, says Executive Medical Director Dr. John Sharp.
 
The ultimate goal for each patient is to nourish their return to health. The programs are dedicated to empowering each person to become self reflective and mindful and able to provide for their own sense of emotional control and eventual wholeness. Bridges to Recovery believes that individuals experience greater resolution of their problems and enhanced personal growth when their treatment is customized to their particular needs and they progress at their own pace. This holistic collaborative process with an entire team of experts gives our patients a sense of empowerment in their treatment process and restored hope that they can continue on this plan after they leave the loving and supportive environment at Bridges to Recovery. If you or a loved one are suffering, please call Bridges to Recovery today for a free assessment. You've suffered long enough.
Bridges to Recovery Residential Treatment Center is licensed by the Department of Social Services in California. #198600073 and 198601269
# # #