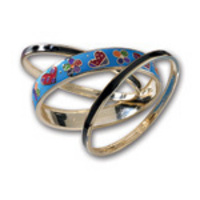 We are delighted to be introducing The Britto Collection by The Franklin Mint…and we are proud that the quality of our products lives up to his standards of artistic integrity
Exton, PA (PRWEB) October 25, 2010
The Franklin Mint unveils a bold new line of jewelry and home décor designed by Internationally renowned pop artist, Romero Britto.
For his holiday debut at The Franklin Mint, Britto has inspired a large, playful and uplifting collection of gold, silver and enameled jewelry – a true reflection of what words fail to express about the joys of life. "We are delighted to be introducing The Britto Collection by The Franklin Mint…and we are proud that the quality of our products lives up to his standards of artistic integrity," says Gina Samuels, VP of Jewelry for The Franklin Mint. "From color to theme, to the fine intricacies…every single element exudes happiness." The Britto Collection by The Franklin Mint will run the gamut from home décor to a continued expansion of unique and inspirational jewelry designs.
Nita Martin, VP of The Franklin Mint's Home Décor and Sculpture Division, adds "Moving forward, we intend to cultivate our relationship with Romero. As the world continues to learn more about this iconic and enthusiastic artist, we will be creating and introducing new and exciting pieces right along with him. Each design will reflect the color, innovation and spirit of Britto's art."
The Britto Collection by The Franklin Mint is now available at http://www.franklinmint.com. A worldwide debut is scheduled for early November 2010. For dates, locations and more information, log on to http://www.franklinmint.com/Britto.
About Britto
A modern-day pop culture icon, Romero Britto creates contemporary masterpieces that evoke a spirit of hope and convey a sense of warmth. Embraced by the international community, Britto's paintings and sculptures are currently featured on five continents in more than 100 galleries worldwide. His original artwork, dubbed "the art of healing," brings together bright colors and playful themes with compositional elements of Cubism. Britto's work provides art lovers around the world an open-minded and optimistic view of life, from the cerebral canvas of an artist who gains daily inspiration from the world around him.
About The Franklin Mint
An American icon, The Franklin Mint was founded in 1964 and is known worldwide for its innovative design, meticulous attention to detail and creation of the highest-quality collectibles in the world. The Franklin Mint's peerless archives contain over 12,000 products, including Limited Edition fine art sculptures, heirloom dolls, commemorative coins, designer jewelry, precision die-cast models and historic reproductions, as well as collections honoring some of the world's most revered and diverse artists, individuals and institutions, from Andrew Wyeth to Peter Maxx, from Harley-Davidson® to the Vatican.
As originators of many direct marketing techniques still in use today, The Franklin Mint has been bringing heirloom treasures to tens of millions of people around the world for almost five decades. Their line of fine products has included some of the all-time best-selling collectibles, including Monopoly®, the original Civil War Chess Set and numerous successful licensed programs with Chevrolet®, Elvis Presley Enterprises, Ford, General Motors®, Harley-Davidson® Motorcycles, John Wayne®, Marilyn Monroe™, the Smithsonian Institution and Paramount Studios.
###