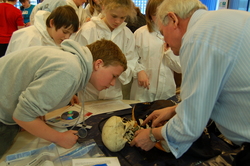 We feel hugely honoured to have been selected for the finals of The Lord Stafford Awards and we are delighted to be part of such elevated company.
(PRWeb UK) October 25, 2010
A PROJECT which uses the 'CSI effect' to excite young minds into appreciating science has won a place in the finals of the Lord Stafford awards.
SciChem Forensic Investigations is designed to show schoolchildren the scientific processes behind crime-scene investigation and is proving so successful that it has been shortlisted for the prestigious 'Innovation Achieved' category at this year's awards.
The brainchild of Staffordshire University's forensics Professor John Cassella, the project is designed to enthuse youngsters and to encourage their progression through science education.
To progress the idea, the University entered into a Knowledge Transfer Partnership with schools equipment company Scientific and Chemical Supplies Ltd (SciChem) to produce and market forensic science kits which are geared to the UK national Science curriculum.
An exciting range of Staffordshire University branded forensics kits - already included in the company's equipment catalogues - allow blood samples to be analysed, fingerprints to be collected and compared and footwear impressions to be examined.
Professor Cassella said: "Once science is contexualised and, in part, dramatised it becomes more empowering to people of all ages. And the so called 'CSI effect' of forensic science is perhaps one of the strongest pieces of evidence for this.
"It's a simple idea which has benefited from a brilliant KTP associate, a really good relationship with the company – and a realisation that not one of us could have pulled this off individually.
"We understand that we are one of only a few KTPs making an in-project profit and we hope long-term that in addition to Staffordshire University becoming synonomous with forensic science teaching, the University's share of the profits can be ploughed back into other innovative research and ideas."
The Knowledge Transfer Partnership employs Forensic Science graduate and Masters student Philip Morton as an Associate whose role has included researching the curriculum to see what needs to be included in the kits, writing the associated study guides for both teachers and pupils, providing hands-on training in the use of the kits and even modifying existing crime scene techniques and developing brand new equipment in teaching science.
Philip said: "Over the last two years I have developed, within SciChem, the ability to design, write, assemble and manufacture education resources that are unique to the market. I am very proud of this and the fact that we have received industry and region-wide recognition is fantastic."
Tim Avery, Education Sales Director at SciChem Ltd said the partnership had exceeded all expectations and been the catalyst in discovering new untapped markets.
He added: "It started a process of moving us from a supplier to a developer and manufacturer of exclusive materials, and has enabled us to establish our new product development department. Our relationship with Staffordshire University now provides us with the platform for future development."
"We feel hugely honoured to have been selected for the finals of The Lord Stafford Awards and we are delighted to be part of such elevated company."
The 13th Lord Stafford awards are taking place at Stareton Hall, Stoneleigh Park, Warwickshire on the evening of November 18. It will be hosted by the BBC's Kay Alexander. The keynote speaker is President of Virgin Galactic Will Whitehorn.
# # #