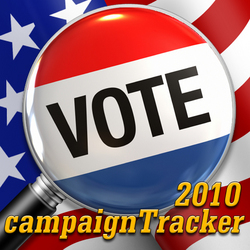 "Anyone who uses this app will be far ahead of others in their field, as it's designed to make researching and organizing information simple and far faster than ever before."
Austin, TX (PRWEB) October 24, 2010
campaignTracker 2010, launched this week, culls through thousands of news articles on politicians and political issues in real time during this election season, delivering immediate, well-organized access to local, state, and national political news. The innovative app is designed for iPad, iPhone, and iPod touch users for a one time price of $4.99.
campaignTracker 2010 resets the bar in terms of research capabilities for the most current, in-cycle, trending political news by delivering unique cross-searching options that traditional search engines cannot match. This grouping-by-topic ability is a powerful, time-saving tool that surfaces previously unknown connections, leading to organized news discovery.
"I developed this app keeping in mind people deeply entrenched in the political scene, such as reporters, bloggers, campaign managers, lobbyists, and informed citizens. My hope is to lessen the stress of keeping up with the issues during campaign season." said Erwin Mazariegos, founder of pTracker LLC, the publisher of campaignTracker 2010. "Anyone who uses this app will be far ahead of others in their field, as it's designed to make researching and organizing information simple and far faster than ever before."
Mr. Mazariegos has had success with other political news apps he's developed, but is particularly jazzed about this one: "I anticipate that this app will become the go-to tool for professionals. It will change the way a journalist does his or her job when deadlines are pressing down, especially in the month up to an election, when things are so intense and time sensitive."
In addition to published news, campaignTracker 2010 also provides up to the minute access to the Twitter feed of all known politicians and candidates using Twitter to communicate with the public. For comprehensive non-partisan election data, the app also interfaces with Project Vote Smart, a not-for-profit group whose mission is to arm voters with up to date nationwide election information, known as the "Voter Self-Defense System". (Visit http://www.votesmart.org for more information.)
With the launch of campaignTracker 2010, the pTracker Political Suite is now complete and available. The other apps in the suite are "politicoTracker", "govTracker", and "politicoTracker Twitter Edition", available at the Apple App Store (search on "pTracker").
campaignTracker 2010 is powered by Llesiant technology, a proven, enterprise grade search engine in use today by many federal agencies and major corporations and law firms. Each News Discovery app in the pTracker Political Suite allows access to specific segments of this powerful corporate tool, making this technology newly accessible to individuals.
An iPad-optimized version of campaignTracker 2010 is in development and will launch soon. Both the iPhone and iPad versions will be updated with new functionality as the election season progresses.
For more information about campaignTracker 2010 and pTracker, LLC, visit http://ptrackerllc.com.
###