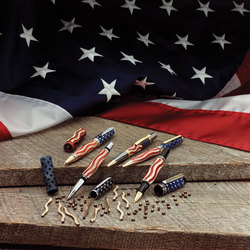 With the help of our customers and local communities, we were able to create more than 62,000 pens during our 2004-2009 turn-a-thon events
Parkersburg, WV (Vocus) October 22, 2010
On Saturday, November 6 – the weekend prior to Veterans Day – Woodcraft stores nationwide will host the seventh annual Turn for Troops National Turn-a-thon. Woodcraft customers and the general public are encouraged to join in making handcrafted wooden pens that will be distributed to American service personnel actively deployed overseas or in rehabilitation facilities in the US.
"With the help of our customers and local communities, we were able to create more than 62,000 pens during our 2004-2009 turn-a-thon events," said Jeff Forbes, president of Woodcraft Supply, LLC. "Hundreds of people — many of whom were first-time turners — have donated their time and talents to creating pens for our troops. We hope that this year volunteers will turn more pens so that even more soldiers can be reminded that people back home remember and appreciate their efforts."
A Marine gunnery sergeant, one of many pen recipients who have expressed their thanks for the pens, writes: "As I sit here in the sand of Afghanistan looking at one of the pens crafted in support of the troops, I have an overwhelming sense of support. To think that someone took the time to craft a token of appreciation has really made my day. Thank you!"
Pen turning is one of the fastest and easiest woodworking skills to learn and enjoy, according to Forbes. A first pen project takes about 30 to 45 minutes, but after creating a few pens this time can drop down to just 15 minutes each. "Using basic lathe skills," Forbes said, "anyone can produce a good quality pen for our troops quickly."
Woodcraft customers and the general public are encouraged to participate. To get involved, contact a Woodcraft store near you. To locate a store or for additional information, visit http://www.Woodcraft.com.
###